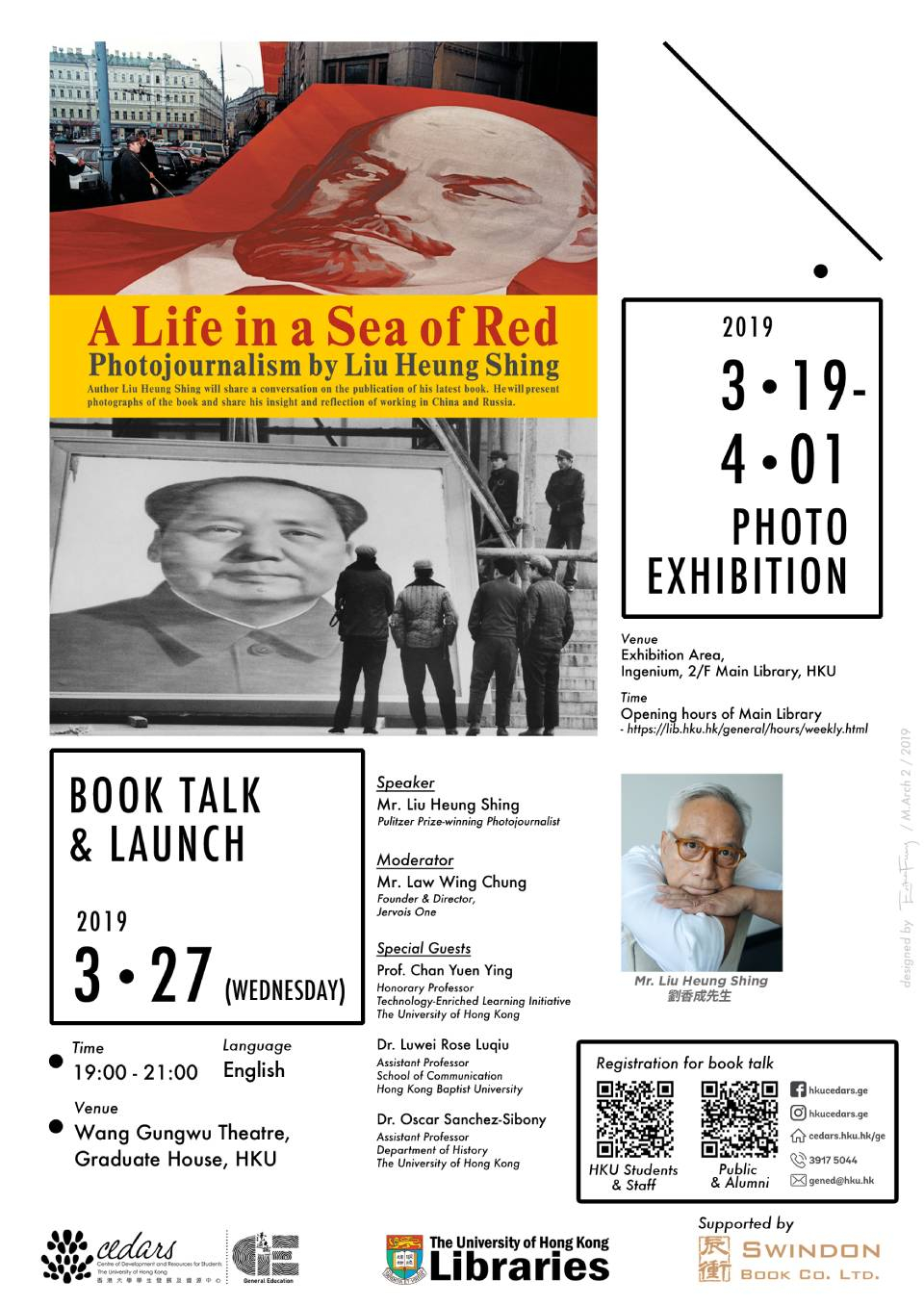 Public Lecture
GE2018-55
Date 日期:
27 Mar 2019
Time 時間:
7:00pm - 9:00pm
Venue 地點:
Wang Gungwu Theatre, Graduate House, HKU
Medium 語言:
English
Speaker(s) 講師:
Mr. Liu Heung Shing

劉香成

先生

Summary 內容:
The newly published book A Life in a Sea of Red contains the two most important bodies of work by Pulitzer-Prize-winning photojournalist, Liu Heung Shing (劉香成): photos of the pivotal decades of Communism in China and Russia, made between 1976 and 2017.

Adapting the phrase "alive in the bitter sea" (「苦海餘生」) from a Chinese proverb about perseverance in tumultuous times, A Life in a Sea of Red presents scenes of hope, hardship and change under and after Communist rule. In this book talk, Liu Heung Shing will speak about his photojournalism in China and former USSR.

Book Talk & Launch (*There will be book signing after the book talk.)

Date: 27/3/2019 (Wed)
Time: 19:00 – 21:00
Venue: Wang Gungwu Theatre, Graduate House, HKU
Language: English

Speaker: Mr. Liu Heung Shing (Pulitzer Prize-winning Photojournalist)
Moderator: Mr. Law Wing Chung (Founder and Director, Jervois One)

Special Guests:
Prof. Chan Yuen Ying (Honorary Professor, Technology-Enriched Learning Initiative, The University of Hong Kong)
Dr. Luwei Rose Luqiu (Assistant Professor, School of Communication, Hong Kong Baptist University)
Dr. Oscar Sanchez-Sibony (Assistant Professor, Department of History, The University of Hong Kong)

Online registration:
For HKU students and staff – https://hkuems1.hku.hk/hkuems/ec_regform.aspx?ueid=62076
For alumni and public – https://hkuems1.hku.hk/hkuems/ec_regform.aspx?guest=Y&ueid=62077

More about A Life in a Sea of Red
Understanding the death of Mao Zedong in 1976 as the harbinger of change for China, Liu Heung Shing arrived in Beijing in 1978 to photograph the country for Time magazine at a moment of momentous transition. This he did in an empathetic, unfiltered manner beyond the visual narrative perpetuated by the Chinese government—from the withdrawal of Mao's portraits from the public realm, to the increase in free commercial, artistic and personal expression, to the 1989 violence on Tiananmen Square and, more recently, the rise of yuppies who show how China has recast Communism in a socialist-capitalist mould.
In contrast, Liu's photographs of Russia, taken between 1990 and 1993, document the collapse of a Communist state. The most enduring of these shows Mikhail Gorbachev throwing down the speech he delivered on 25 December 1991, announcing his resignation, and signalling the end of the Soviet Union and Cold War. This photo, which embodies Liu's ability to convey complex narratives in a single frame, is from the series that was awarded a Pulitzer Prize in 1992.

Photo Exhibition

Period: 19/3 – 1/4/2019
Location: Exhibition Area, Ingenium, 2/F Main Library, HKU
Time: Opening hours of Main Library
https://lib.hku.hk/general/hours/weekly.html


Bio of Speaker(s) 講者簡介:

劉香成是位成就卓著的新聞攝影師。他對中西方攝影有著深厚的認識,編撰了一系列中國攝影書籍。劉香成1951年出生於香港,70年代在《生活》雜誌工作期間,受到了包括瓊恩·米利在內的《生活》雜誌傳奇攝影團隊的啟發與影響。1977年他移居北京,成為《時代週刊》與美聯社的首席駐華攝影師。1992年,他因報導蘇聯解體的圖片與同事分享獲得普立茲現場新聞攝影獎。
劉香成與Taschen、維京、企鵝等知名出版社合作出版了許多書籍,為中國攝影的發展提供了權威參考,其中包括《中國,一個國家的肖像》(Tasche ,2008)、《上海:1842—2010,一座偉大城市的肖像》(中文版)(世界圖書出版公司北京公司,2010)、《革命中的中國,通往1911之路》 (香港大學出版社,2011)。他的個人攝影作品集包括《蘇聯的解體》(美聯社,1993),以及《毛以後的中國》(企鵝出版社,1983)。《毛以後 的中國》獲得了《新聞週刊》的讚賞,他們稱劉香成為「中國的亨利·卡蒂埃·布列松」。

Liu Heung Shing is an accomplished photojournalist and Pulitzer-prize winning photographer. He has also edited a number of books on Chinese photography, being possessed of a wealth of knowledge about both Chinese and Western photography. Born in Hong Kong in 1951, Liu apprenticed at Life magazine in the 1970s where he was inspired and influenced by the legendary team of Life photographers including Gjon Mili. In 1977, he moved to Beijing, where he became the chief photographer for Time magazine and the Associated Press. In 1992, he shared the Pulitzer Prize for Spot News for the coverage of the collapse of the Soviet Union.
Collaborating with publishers such as Taschen, Viking, and Penguin, Liu Heung Shing's publications offer an authoritative voice on photography in China, including, China, Portrait of a Country (Taschen, 2008), Shanghai, A History in Photographs 1842-Today (English version) (Penguin Viking, 2010), and China in Revolution, The Road to 1911 (Hong Kong University Press, 2011). Volumes of his own works include, USSR, Collapse of an Empire (Associated Press, 1993) and China After Mao (Penguin,1983). In recognition of China After Mao, Newsweek magazine called Liu Heung Shing "The Cartier-Bresson of China."