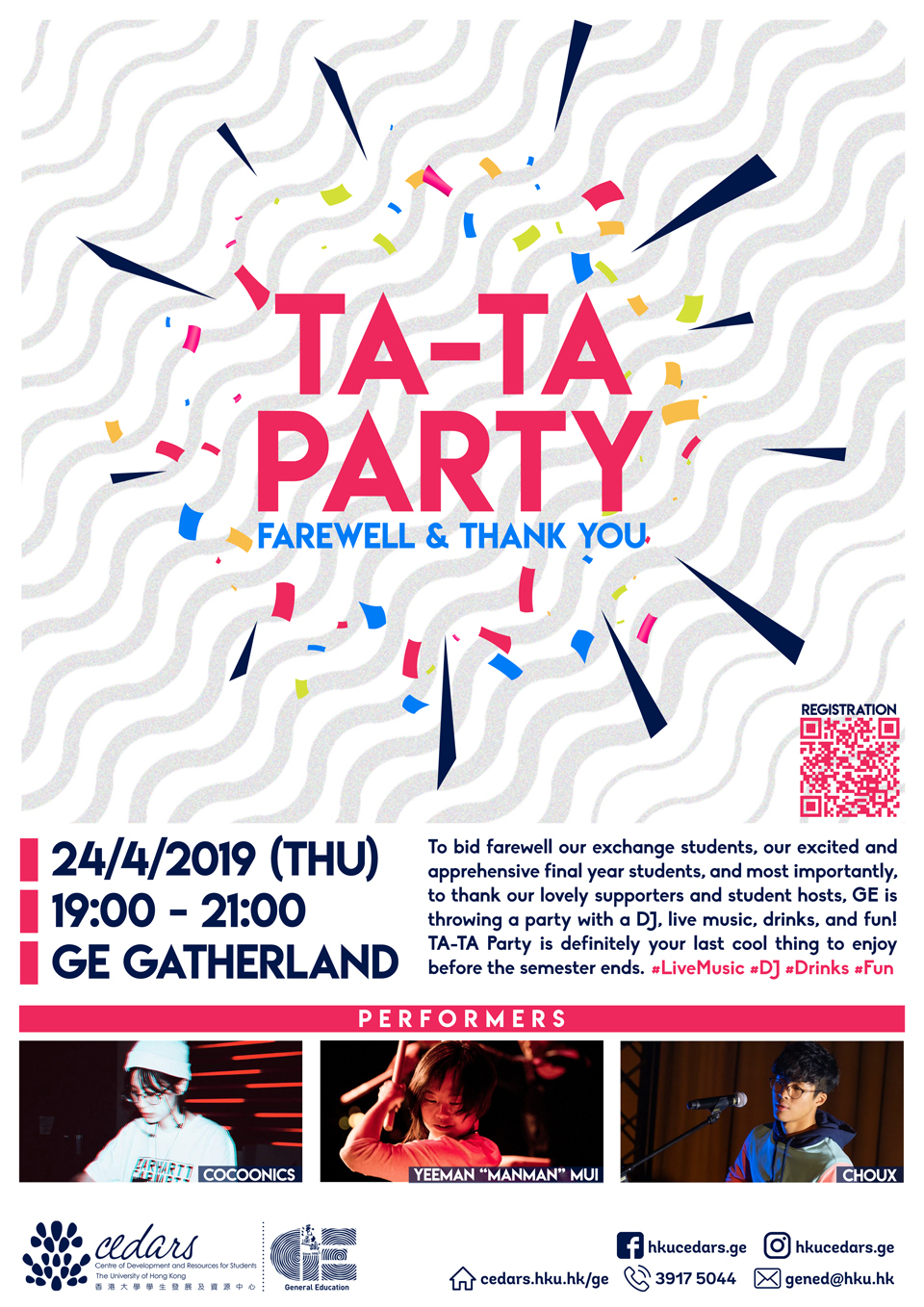 Party
Date 日期:
24 Apr 2019
Time 時間:
7:00pm - 9:00pm
Venue 地點:
GE Gatherland
Medium 語言:
English
Summary 內容:
To bid farewell our exchange students, our excited and apprehensive final year students, and most importantly, to thank our lovely supporters and student hosts, GE is throwing a party with a DJ, live music, drinks, and fun! TA-TA Party is definitely your last cool thing to enjoy before the semester ends.

Supported by: Music Club, HKUSU

Date: 24/4 (Wed)
Time: 19:00 – 21:00
Venue: Gatherland, 2/F, Pao Siu Loong Building, HKU
Registration: https://hkuems1.hku.hk/hkuems/ec_regform.aspx?ueid=62056

Performers:

Yeeman "ManMan" Mui
ManMan is a creative artist and acclaimed music educator. Graduated at HKU with an MPhil in Musicology (2010), ManMan currently teaches at Los Angeles Taiko Institute, and performs and gives workshops around the globe.

Cocoonics aka Athena Chan (BJ Year 4)
Cocoonics is a Hong Kong DJ/beatmaker from Eating Music label. She has already made her presence across towns within a year – performed at Sónar Hong Kong, and Clockenflap Music & Arts Festival, etc.

choux aka Anthony Wong (BSocSc Year 2)
From the initial devotion to classical strings instruments, choux has since presented himself as a guitar singer and developed a fondness for the R&B genre. He was the Champion of HKU Singing Contest 2019 (Solo).