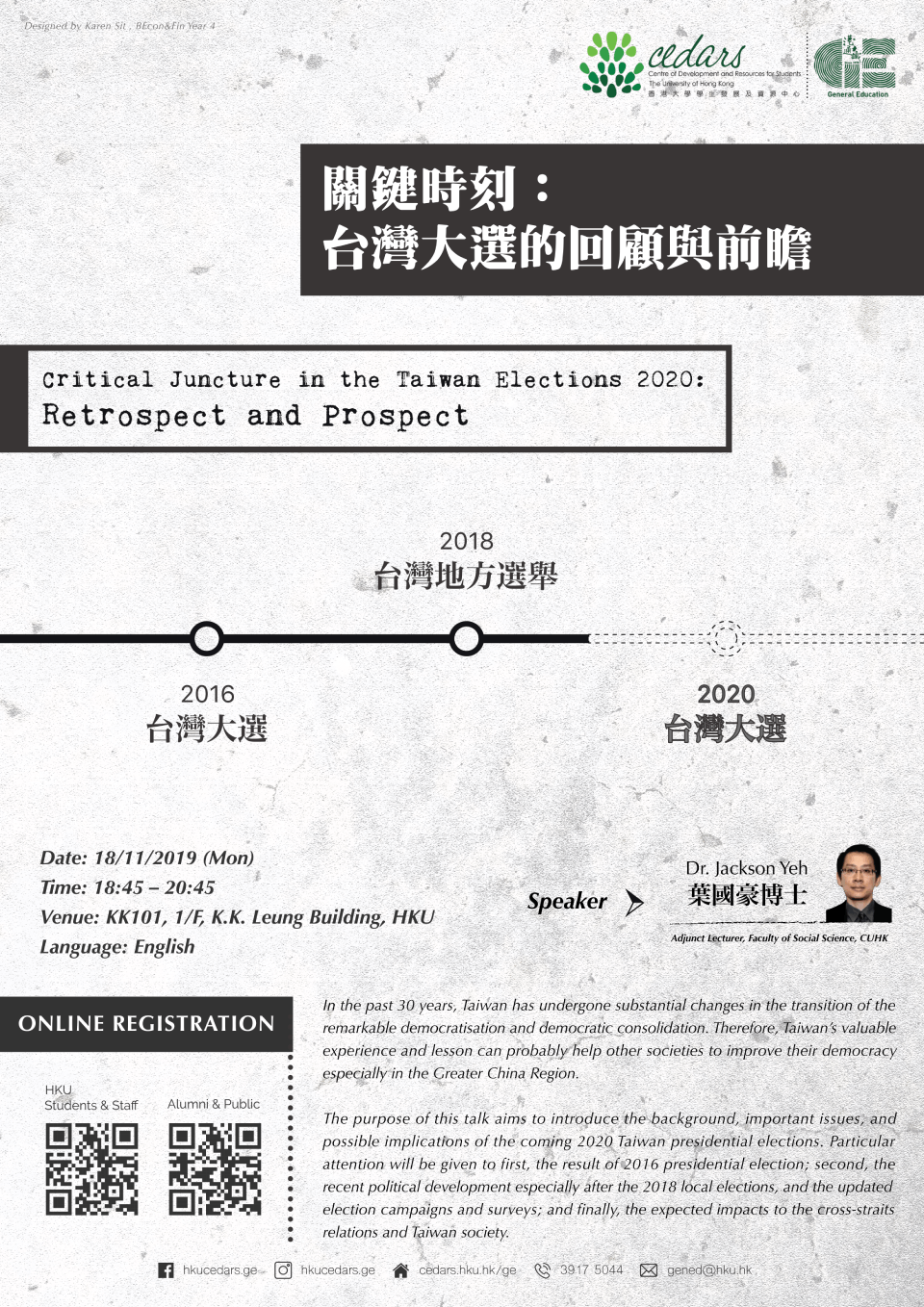 Lecture
GE2019-06
Date 日期:
18 Nov 2019
Time 時間:
6:45pm - 8:45pm
Venue 地點:
KK101, 1/F, K.K. Leung Building, HKU
Medium 語言:
English
Summary 內容:
[ 15/11/2019 ]
Since all classes on the Main Campus for the rest of the semester have been suspended, this talk will be re-scheduled. Plesae stay tuned for further announcement.

In the past 30 years, Taiwan has undergone substantial changes in the transition of the remarkable democratisation and democratic consolidation. Therefore, Taiwan's valuable experience and lesson can probably help other societies to improve their democracy especially in the Greater China Region. The purpose of this talk aims to introduce the background, important issues, and possible implications of the coming 2020 Taiwan presidential elections. Particular attention will be given to first, the result of 2016 presidential election; second, the recent political development especially after the 2018 local elections, and the updated election campaigns and surveys; and finally, the expected impacts to the cross-straits relations and Taiwan society.

Registration:
HKU Students and Staff –

https://hkuems1.hku.hk/hkuems/ec_hdetail.aspx?ueid=67088


Alumni and Public –

https://hkuems1.hku.hk/hkuems/ec_hdetail.aspx?guest=Y&ueid=67089



Bio of Speaker(s) 講者簡介:
Dr. Jackson Yeh 葉國豪博士
Dr. Jackson Yeh is trained as a political sociologist. His current research interests focus on China Factors in Hong Kong, Hong Kong-Taiwan Relations and Comparative Studies, and Hong Kong Politics and Society. Dr. Yeh is also an active social observer who has written extensively on current affairs with particular emphasis on Taiwan and Hong Kong issues. He has lent his expert commentary to the China Times, United Daily News, Taipei Times, Want Daily, Apple Daily, The Journalist, Ming Pao, Hong Kong Economic Journal, Voicetank, and META.