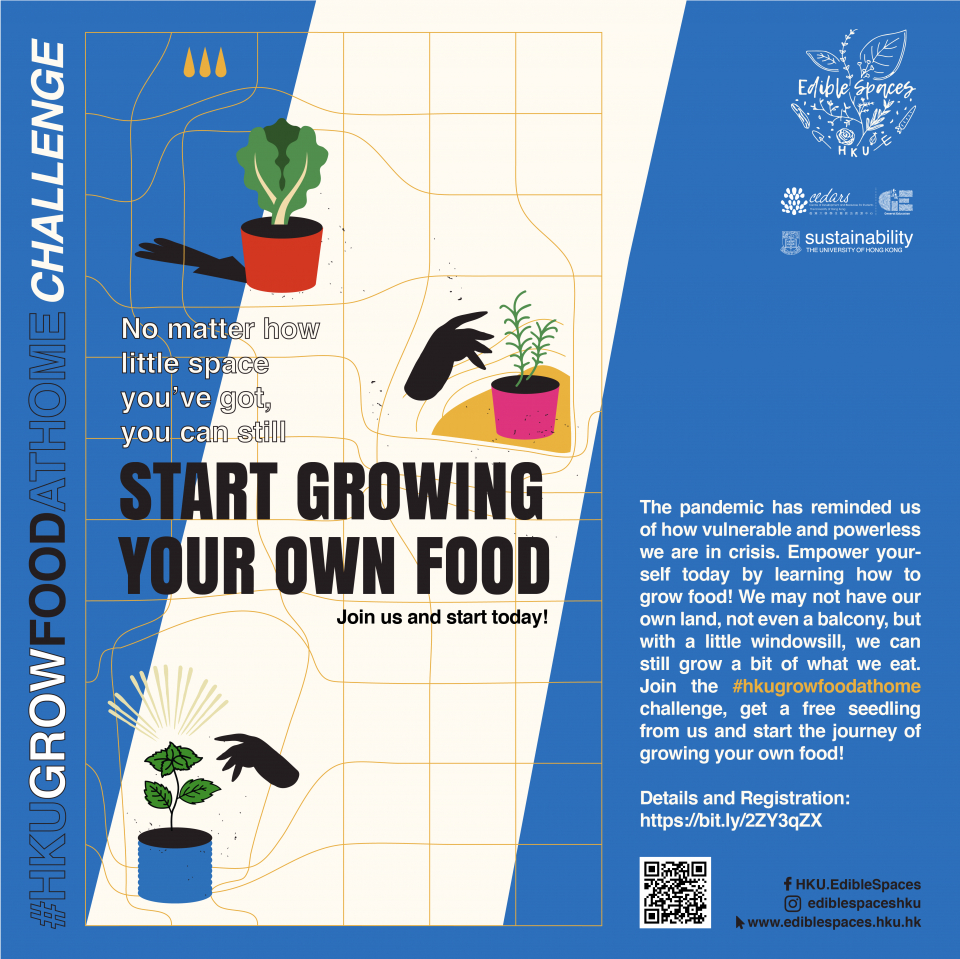 Challenge
Date 日期:
23 - 30 Sep 2020
Time 時間:
9:00am - 5:00pm
Summary 內容:

#hkugrowfoodathome

Challenge
The pandemic has reminded us of how vulnerable and powerless we are in crisis. Empower yourself today by learning how to grow food! We may not have our own land, not even a balcony, but with a little windowsill, we can still grow a bit of what we eat. Join the #hkugrowfoodathome challenge and start this journey with us. In this first round, we will be giving out relatively more hardy and easy to grow herb seedlings (e.g. rosemary, basil, mint, oregano, thyme) for you to try growing at home. Not only will these herbs give your meals extra freshness and aroma, they can also make you feel better and refresh your mind!



~How to join:




Like our IG (@ediblespaceshku) / FB page (ediblespaceshku)
Register here: (For HKU Students & Staff)
https://hkuems1.hku.hk/hkuems/ec_hdetail.aspx?ueid=71848

Quota: 30
Deadline: Sep 30, 2020 (Wed)
Confirmation email will be sent to successful applicants with details of collection of free seedlings.




~What you have to do after registration:




Pick up your baby herb seedling at GE Gatherland (2/F, Pao Siu Loong Building).
Join a whatsapp group in which you can share weekly updates about your plant during the challenge period (Sep – Nov) and ask questions (don't worry, no spams!)
Receive videos/tips on how to grow at home
Selected photos of plants will be shared in our social media/website
Participants who best record their herb-growing journey and successfully keep the plant alive and flourishing will be rewarded a pack of fresh harvest from the HKU Rooftop Farm!

Sounds exciting right? Join now!

The programme is part of the HKU Rooftop Farm Project, co-organised by CEDARS-GE.