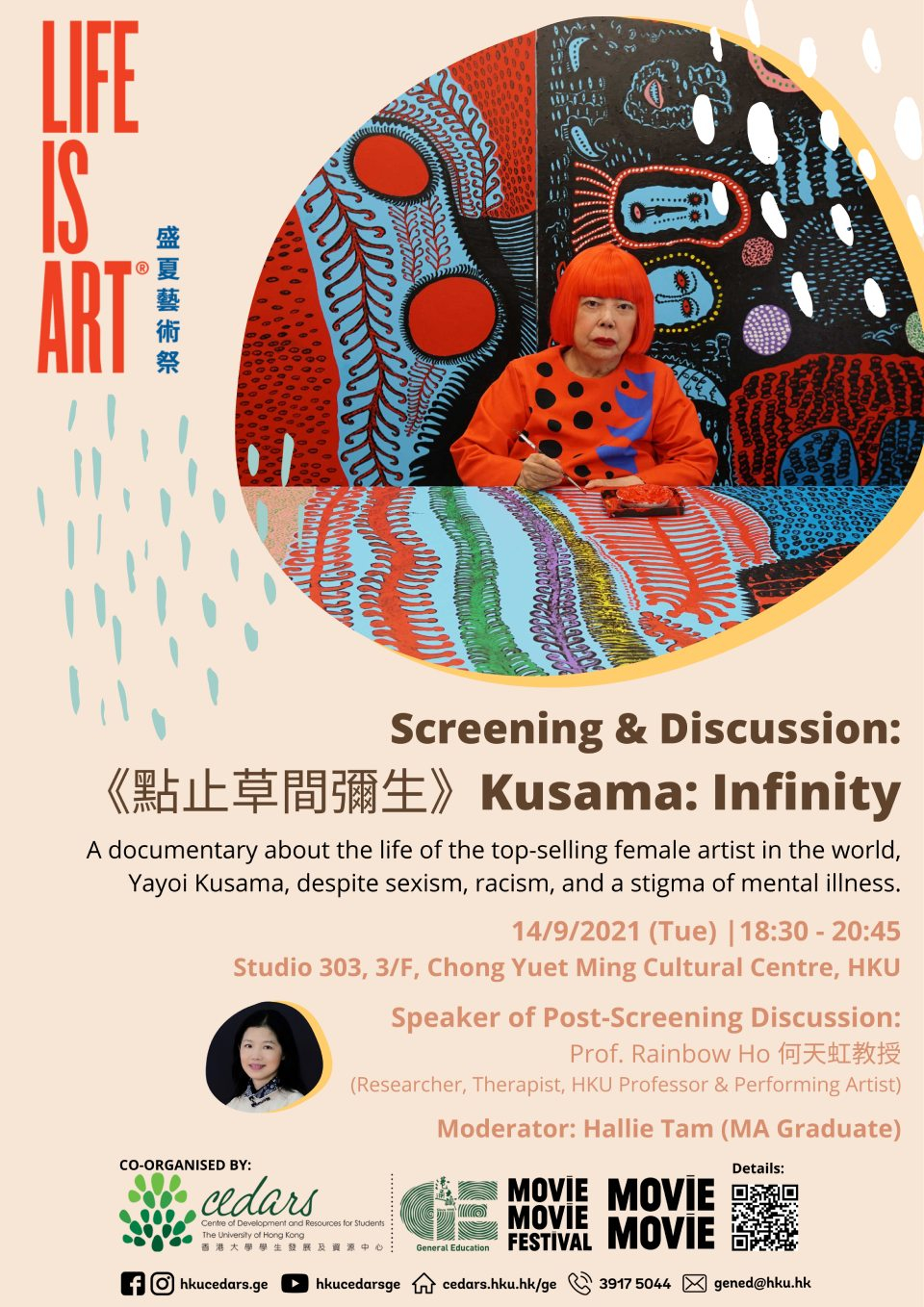 Screening
Date 日期:
14 Sep 2021
Time 時間:
6:30pm - 8:45pm
Venue 地點:
Studio 303, 3/F, Chong Yuet Ming Cultural Centre
Summary 內容:
《點止草間彌生》是一部探討殿堂級藝術大師草間彌生成名之路的紀錄片。導演Heather Lenz帶你回戰後的日本看草間的根本,回顧她如何在紐約和日本藝壇立足,及與Andy Warhol、Joseph Cornell等大師的相遇相知,草間彌生更親自為往事解說,在點點之間,串連出她的傳奇故事。電影入選辛丹斯電影節紀錄片競賽單元。
影片放映會設映後談,何天虹教授將與觀衆一起討論藝術如何影響草間彌生的一生。何教授現任香港大學社會科學學院副院長(研究生教育), 行為健康教研中心總監、社會工作及社會行政學系教授、表達藝術治療碩士課程總監。

Kusama: Infinity is a documentary that tells how the top-selling living female artist in the world, Yayoi Kusama overcame countless odds to bring her radical artistic vision to the world stage. Kusama was an underdog with everything stacked against her—the trauma of growing up in Japan during World War II, life in a dysfunctional family that discouraged her creative ambitions, sexism and racism in the art establishment, mental illness in a culture where that was a particular shame. In spite of it all, Kusama has endured and has created a legacy of artwork that spans the disciplines of painting, sculpture, installation art, performance art, poetry, and novels. Director Heather Lenz brings audience to experience the infinity world of this remarkable artist. Selected by Sundance Film Festival for US Documentary Competition.
In the post-screening discussion, Prof. Rainbow Ho will discuss how art impacts the life of Yayoi Kusama. Prof. Ho is currently the Associate Dean (Postgraduate Education) of the Faculty of Social Sciences, Professor of the Department of Social Work and Social Administration, Director of the Centre on Behavioral Health, and Program Director of the Master of Expressive Arts Therapy program in The University of Hong Kong.

This screening event is co-organised with MOViE MOViE.

Documentary:《點止草間彌生》Kusama: Infinity
77 mins | In Japanese & English with Chinese & English subtitles
* Some scenes may involve nudity 涉及裸體場景


Date: 14/9/2021 (Tue)
Time: 18:30 – 20:45
Venue: Studio 303, 3/F, Chong Yuet Ming Cultural Centre
Language of Discussion: Cantonese (simultaneous interpretation in English will be provided upon request by 7 Sep)
Speaker of Discussion: 何天虹教授Prof. Rainbow Ho (Researcher, Therapist, HKU Professor and Performing Artist)
Moderator: Hallie Tam (MA Graduate)

Registration (HKU Students):
https://hkuems1.hku.hk/hkuems/ec_hdetail.aspx?ueid=78086
Registration (HKU Staff):
https://hkuems1.hku.hk/hkuems/ec_hdetail.aspx?ueid=78094




Bio of Speaker(s) 講者簡介:
何天虹教授為研究者、治療師、教授及表演藝術工作者多年。她的研究領域包括創意及表達藝術治療、身心醫學、心理生理學、中國傳統療法、靈性及運動等應用於健康及各年齡的臨床群體,以及藝術如何能促進社會互諒共融。何教授獲美國舞蹈治療協會頒發研究獎(2015, 2019) 及傑出成就獎 (2015),澳洲, 紐西蘭及亞洲藝術治療協會頒發研究及發展獎 (2016),以及香港大學社會科學學院的傑出教師獎(2015),傑出研究成果獎(2020)及知識交流獎(2021)。

Prof. Rainbow Ho has been working as a researcher, therapist, professor and performing artist for many years. She has been the principal investigator of many research projects related to creative and expressive arts therapy, mind-body medicine, psychophysiology, spirituality, and physical activity for healthy and clinical populations, and arts for social inclusion. Prof. Ho Has received the Outstanding Achievement Award (2015) and Research Award (2015, 2019) from the American Dance Therapy Association, and the Research and Development Award from the Australia, New Zealand and Asia Arts Therapy Association (2016). She also received the Outstanding Teaching Award (2015), Outstanding Research Output Award (2020) and Knowledge Exchange Award (2021) from the Faculty of Social Sciences, The University of Hong Kong.