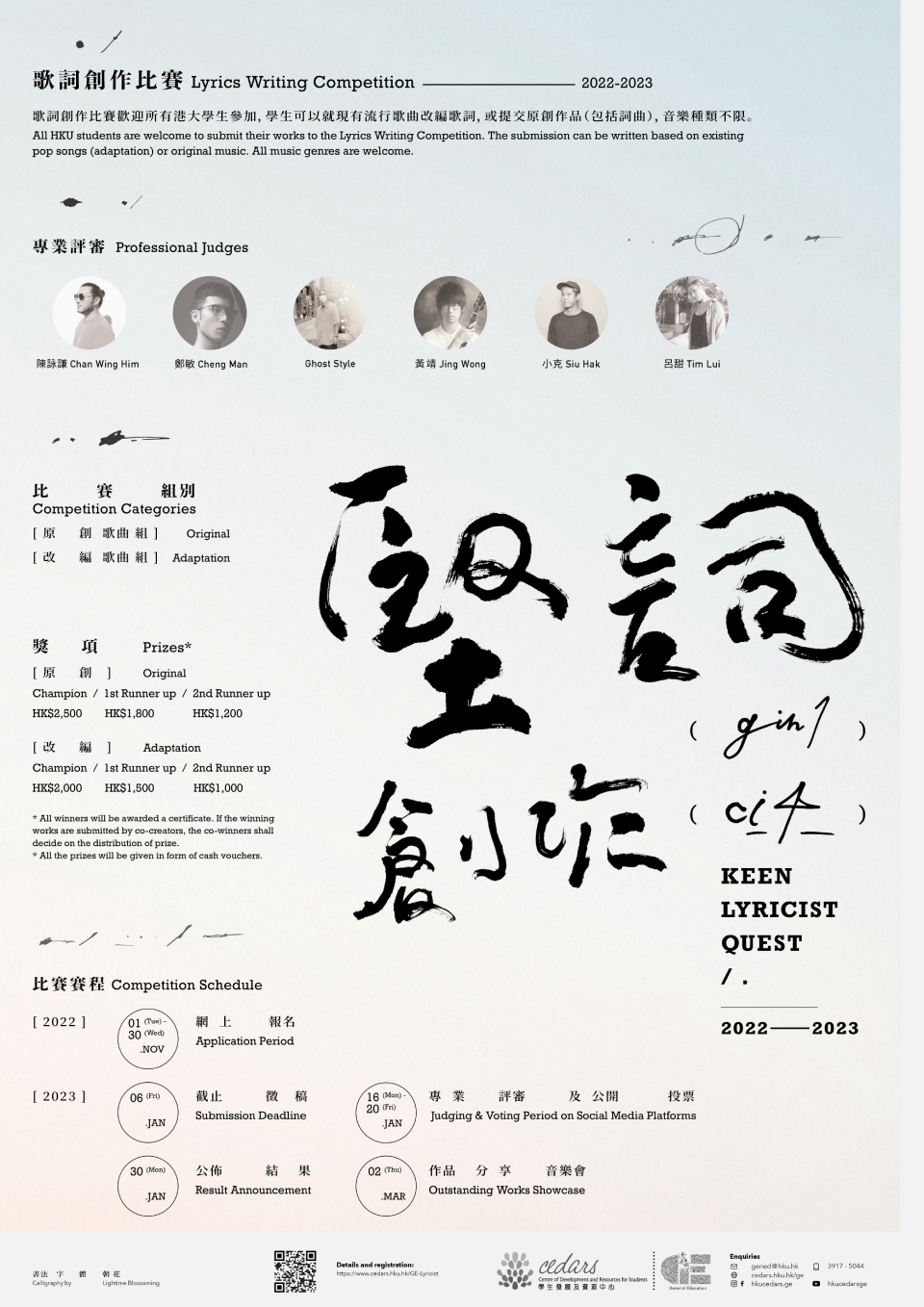 Competition
GE2022-05
Date 日期:
30 Nov 2022
Time 時間:
12:00am - 12:00am
Summary 內容:
《「堅詞」創作》歌詞創作比賽 2022-2023
Keen Lyricist Quest – Lyrics Writing Competition

《「堅詞」創作》在2022年9月及10月邀請了資深流行音樂作詞人在研討會和工作坊,分享他們在創意和歌詞創作方面的經驗和見解。

為進一步鼓勵創作歌詞及提高學生對中英文歌詞創作的興趣與欣賞,《「堅詞」創作》將舉辦歌詞創作比賽,提供學生一個平台,在校内發表作品。

歌詞創作比賽歡迎所有港大學生參加,學生可以就現有流行歌曲改編歌詞,或提交原創作品(包括詞曲),音樂種類不限。由專業評審挑選的優秀作品享有發表機會,在2023年的作品分享音樂會,《「堅詞」創作》將邀請專業歌手及學生團體表演得獎作品;另外得獎者也可以表演自己的作品。

In Sep and Oct 2022, Keen Lyricist Quest invited seasoned practitioners in the popular music industry to share their experience and insights into creativity and lyrics writing in seminars and workshops.

To further encourage lyrics writing and enhance students' interest and appreciation of the use of language in the art of lyrics writing, in both Chinese and English, Keen Lyricist Quest is going to organise a Lyrics Writing Competition to provide a platform for students to publish their works at HKU.

All HKU students are welcome to submit their works to the Lyrics Writing Competition. The submission can be written based on existing pop songs (adaptation) or original music. All music genres are welcome.

The outstanding works selected by the professional jury will be published at our Outstanding Works Showcase in 2023. Professional singers and student groups will be invited to perform the winning works; the winners can also perform their own works.



比賽賽程

Competition Schedule




Application Period
報名日期
1 Nov (Tue) – 30 Nov 2022 (Wed)
Submission Deadline
截止徵稿
6 Jan 2023 (Fri)

Judging & Voting Period on social media platforms
專業評審及公開投票
16 Jan (Mon) – 20 Jan 2023 (Fri)
Announcement of Results
公佈結果
30 Jan 2023 (Mon)
Outstanding Works Showcase
作品分享音樂會
2 Mar 2023 (Thu)


獎項

Prizes

* (cash vouchers)


| | | |
| --- | --- | --- |
| Group 1: Original | Champion (1) | HK$2,500 |
| | 1st Runner up (1) | HK$1,800 |
| | 2nd Runner up (1) | HK$1,200 |
| Group 2: Adaptation | Champion (1) | HK$2,000 |
| | 1st Runner up (1) | HK$1,500 |
| | 2nd Runner up (1) | HK$1,000 |

* All winners will be awarded a certificate. If the winning works are submitted by co-creators, the co-winners shall decide on the distribution of prize.



評審

Judges


1) Professional Lyricists


陳詠謙 Chan Wing Him
鄭敏 Cheng Man
Ghost Style
黃靖 Jing Wong
小克 Siu Hak
呂甜 Tim Lui

2) Organiser


General Education Team of CEDARS (CEDARS-GE)

Gui

delines

on submission of lyrics

(*Updated*)




This competition is open to HKU students only.
The entries are divided into 2 groups – original and adaptation. The submission can be written based on existing pop songs (adaptation) or original music.
All music genres are welcome. Language is limited to Chinese (Cantonese/Putonghua) or English.
Each student can submit up to 2 entries, either be an individual work or a group work with a co-creator who is also a current HKU student.
For group work, the maximum no. of students per group is 2. It can be a collaboration of lyrics or music plus lyrics. For example, student A collaborates with student B for writing lyrics in a group; student C creates music while student D writes lyrics in another group.
Previously published works are not accepted.
Any types of the following entries shall be disqualified in the competition:

Any form of plagiarism
Any entries that infringe the copyright of any third party
Any entries that contain content of violence, obscenity and profanity
Any entries that may be insulting, defamatory or discriminatory
Any entries that may be be commercial-driven promoting someone, some products or services, etc.

All final submissions may be published on the website, social media platforms, and /or other digital / web-based platforms of CEDARS-GE for promotional and archival purposes.
In case of any disputes, CEDARS-GE reserves the right of final decision.

▶Application form (Current HKU Students only):

https://wp2.cedars.hku.hk/forms/node/749


▶Deadline for application*: 23:59, 30 Nov 2022 (Wed)
▶Deadline for submission of lyrics: 23:59, 6 Jan 2023 (Fri)

*Interested students can complete the application form starting from 1 Nov till 30 Nov 2022 and submit written lyrics by 6 Jan 2023.