> Non-credit Bearing General Education Programmes for the First Semester, 2020 – 2021

GE2020-15
人與大自然的關係密切,可惜城市人生活忙碌,一切但求方便快捷,例如甚少購買新鮮食材親自下廚,以致五穀不分,也就失去對四時變化的觸覺。但是這場突如其來的疫症逼使我們重新思考日常生活模式,也令我們更關注健康飲食。學習永續種植不但可以重建與自然的聯繫,更會了解我們的消費模式如何影響日常生活的碳足印。善用空間,城市人也能夠品嚐自己親手栽種的有機蔬菜。
香港大學天台農莊自2013年成立以來,為師生提供有機栽培課程及種植空間,讓大家在校園內享受種植的樂趣。這學期的課程將分為網上課堂及實習部分,參加者可於課堂後之自選時段在天台農莊實習,完成課程後亦可加入義工隊,參與農莊的日常運作。
We city people live so remote from nature that we forget our inseparable bond with nature. We live our hectic lives with too much focus on convenience, forgetting how our food is sourced and losing track of the seasons. However, this pandemic urges us to rethink our lifestyles and makes us more aware of healthy diets. Sustainable farming reconnects us and helps us learn from nature. It also reminds us of how our consumerist behaviour affects the environment. Creative use of urban space allows city people to enjoy the bliss of growing our own food and eating organic, fresh produce.
Established in 2013, the HKU Rooftop Farm provides organic farming workshops and farming space for staff and students to spread the joy of growing our own food. This programme includes online classes and hands-on practice. Participants may visit the rooftop farm at selected timeslots on weekdays to apply the skills learned and they can also join our farming team and to help with daily tasks in the farm.
題目包括 Topics include:
1. 永續農業初階:種植開始 Sustainable Farming: Start Planting2. 泥土及作物管理、病蟲害防治、修剪 Soil and Crops Management, Pest Control and Pruning3. 秋播作物介紹及栽種技巧 Planting Techniques of Autumn/Winter Crops 4. 肥力管理、資源循環及育苗 Fertilisation, Resources Recovery and Seedlings Preparation▍Instructors- Mr. Yip Tsz Lam 葉子林先生
Senior Sustainable Agriculture Officer, Kadoorie Farm and Botanic Garden
- Ms. Carol Fung 馮麗晶女士
Sustainable Agriculture Officer, Kadoorie Farm and Botanic Garden
Co-organiser: Sustainability Office, HKU
Dates: 19/9, 17/10, 31/10 & 21/11 (Sat)Time: 16:00 - 17:30Format: Conducted via online platform; hands-on farming activities at HKU Rooftop Farm  (Runme Shaw Building) during weekdays
Language: Cantonese supplemented with English  

Fee*:  $100  (Full-time student) / $250  (Part-time student or staff)

* Includes seedlings and materials for the learning exercises and participants may visit the farm at specific timeslots during the programme.
Quota:  30
 (15 for students and 15 for staff)
** The enrolment quota for both student and staff is FULL **
Schedule:
| | | |
| --- | --- | --- |
| Date | Time | Venue |
| 19 Sep 2020 | 16:00 - 17:30 | Online Platform |
| 17 Oct 2020 | 16:00 - 17:30 | Online Platform |
| 31 Oct 2020 | 16:00 - 17:30 | Online Platform |
| 21 Nov 2020 | 16:00 - 17:30 | Online Platform |
Bio of Instructor(s) 導師簡介: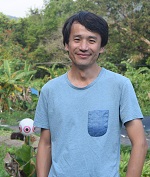 葉子林先生 Mr. Yip Tsz Lam
葉子林出生於農民家庭,畢業於香港中文大學社會學系,曾任職記者。葉先生現職嘉道理農場暨植物園高級永續農業主任,至今參與本地有機農業工作接近二十年,管理之農業生產項目包括果園、菜園、茶園、蜂園等。他熱心推動本地農業,在設計和任教各類農業培訓課程以及策劃農墟等項目方面經驗豐富。他多年來撰寫及編輯了多部著作,記錄本地農業以至新界地區的歷史及發展狀況。