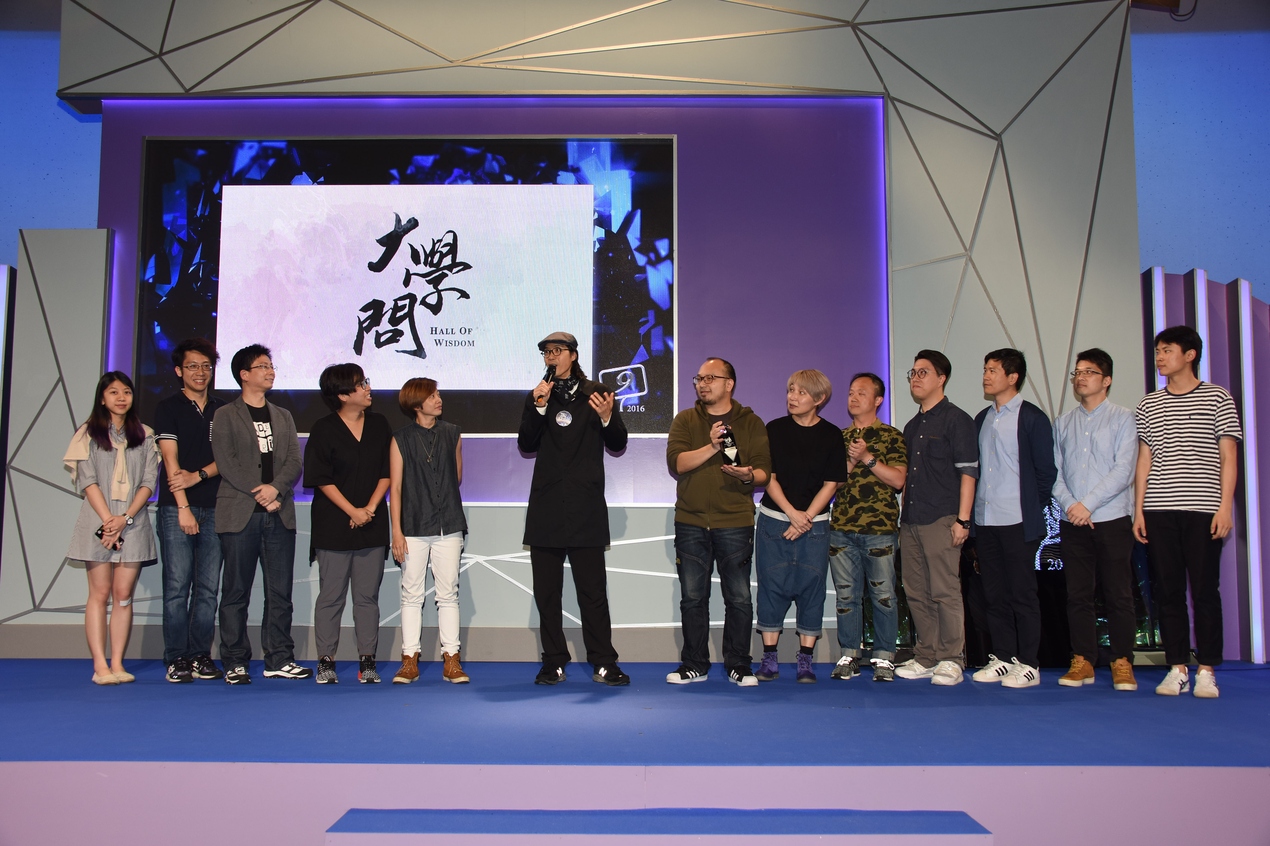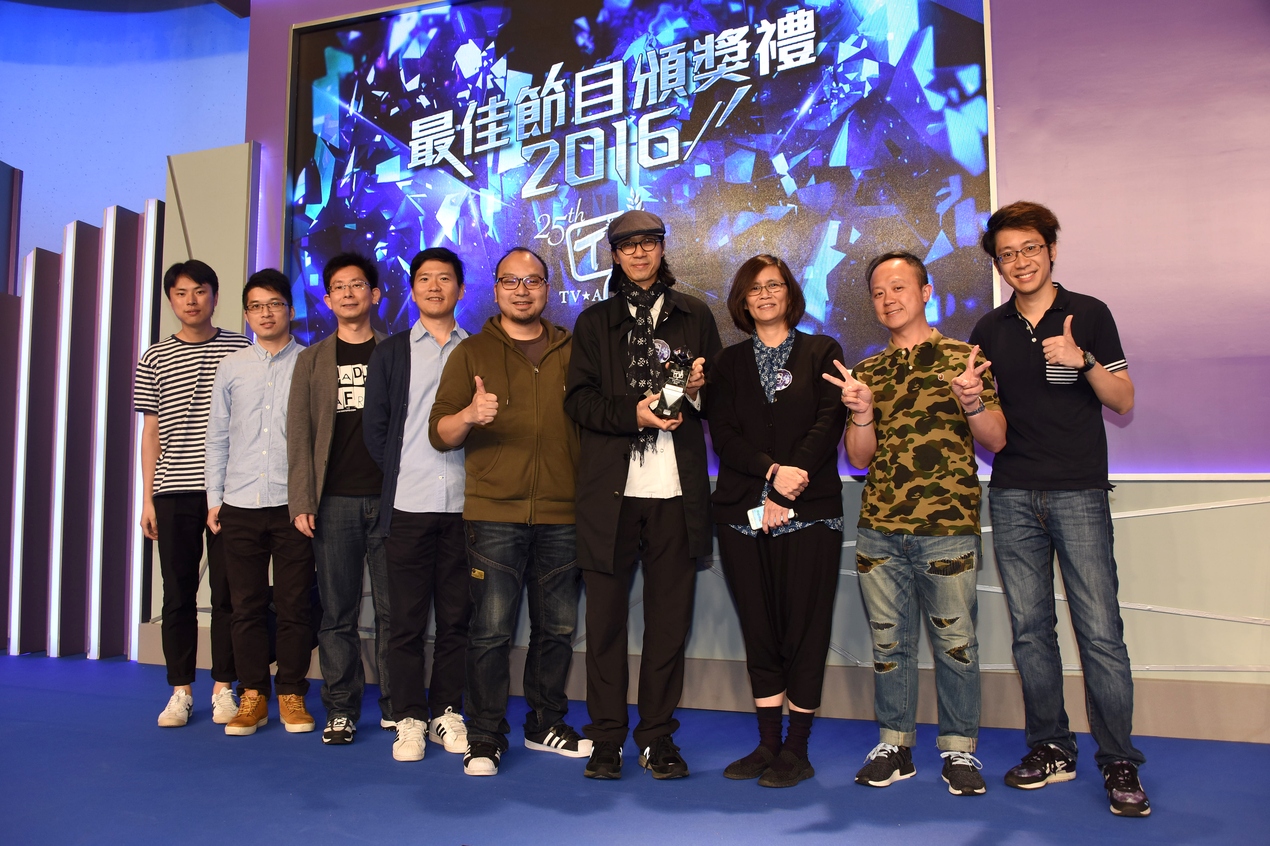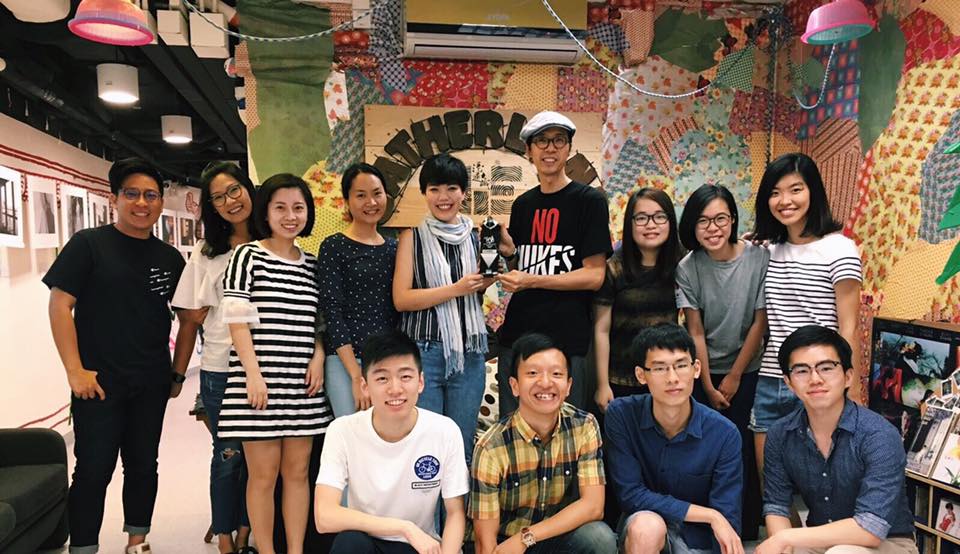 港大通識與香港電台電視部合作,推出一系列《大學問》講座,來自不同界別,赤手空拳建立香港、思索香港的一代,雲集大學講堂裏,與後輩對談。《大學問》精華版以及1.5小時版《大學問八講》,已分別於2016年11月及2017年1月在港台電視31及31A播映。
綜合「
2016電視節目欣賞指數調查
」全年四個階段的調查結果,以認知率5%或以上的電視節目計,《大學問》於全年度欣賞指數排名第九位。頒獎典禮於2017年4月26日舉行,香港大學通識教育助理總監黃志淙博士及香港電台電視部製作團隊上台領獎。
英文字幕版將於2017年8月12日起逢星期六上午八時半無綫電視明珠台播映
,屆時不諳中文的同學及廣大市民也可分享這次學習成果。
Co-presented by HKU GE and RTHK, the lecture series
Hall of Wisdom
will bring masters from different sectors to HKU. The generation that helped lay the groundwork and build our city will share their insights with the successors. The highlights and 1.5-hour versions were broadcast on RTHK TV 31 and 31A in November 2016 and January 2017 respectively.
According to the "2016 TV Programme Appreciation Index Survey (Final aggregate result)",
Hall of Wisdom
ranked 9th among all TV programmes with recognition rate above 5% in the year. Dr. Wong Chi Chung, Assistant Director, General Education, The University of Hong Kong, and the production team members from RTHK attended the award presentation ceremony on 26 April 2017.
Versions with English subtitles will be broadcast every Saturday at 08:30 on TVB Pearl starting 12 August 2017 (Sat).
Students as well as members of the public who do not know Chinese can also benefit from this learning opportunity.
Moderator: Mr. Vincent Tsui 徐緣先生 (文化人、傳媒人。現職壹傳媒首席營銷長。以筆名徐緣寫作,曾出版《型銷》、《購想》、《品》等書。)
Co-organiser:

Website:

Facebook page:
https://www.facebook.com/rthkhallofwisdom
Logo calligraphy: 青山不墨
Speakers:
Recap: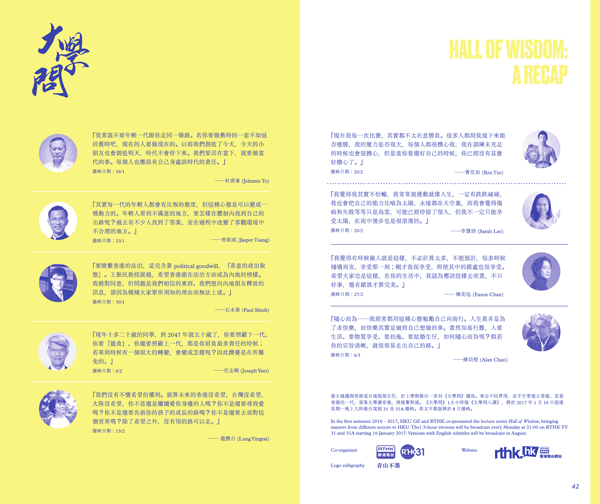 Schedule:
| | | |
| --- | --- | --- |
| Date | Time | Venue |
| 19 Sep 2016 | 17:00 - 18:30 | Wang Gungwu Theatre |
| 07 Oct 2016 | 19:00 - 20:30 | Grand Hall |
| 11 Oct 2016 | 19:30 - 21:30 | Wang Gungwu Theatre |
| 18 Oct 2016 | 19:00 - 21:00 | Wang Gungwu Theatre |
| 26 Oct 2016 | 19:00 - 21:00 | Wang Gungwu Theatre |
| 08 Nov 2016 | 19:30 - 21:30 | Grand Hall |
| 16 Nov 2016 | 19:00 - 21:00 | Wang Gungwu Theatre |
| 18 Nov 2016 | 19:00 - 21:00 | Wang Gungwu Theatre |