STEM Internship Scheme
STEM Internship Scheme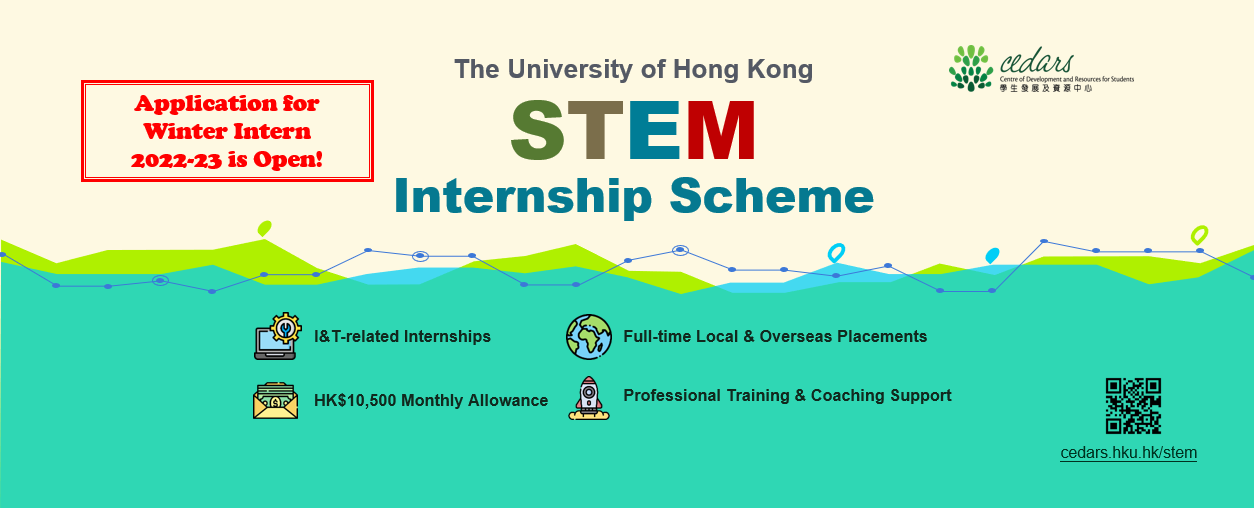 Introduction
The Innovation and Technology Commission (ITC) has set up the STEM Internship Scheme ("Scheme") to encourage STEM students to gain innovation and technology (I&T)-related work experience during their studies and to foster their interest in pursuing a career in I&T after graduation, so as to enlarge the local I&T talent pool.
Student's Eligibility
Currently enrolled as full-time students of The University of Hong Kong.
(Final year students are eligible so long as the internship commences before the expiry of student status and subject to the requirements stipulated in the Guidelines.)
Undergraduates and postgraduates who are studying one of the UGC-funded STEM programmes.
Local students who are defined as paying the local student tuition rate in accordance with the classification of the Education Bureau for the purpose of admission to post-secondary programme listed in definition of local students, or non-local students, capped at a quota of 20% of all HKU participants.
(Non-local students can take up internships in Hong Kong only under the Scheme and should have obtained No Objection Letter before job commencement.)
Legally employable in Hong Kong.
The internship funded by the Scheme should not be a compulsory requirement of the degree programme to which the student is admitted. The internship period in excess of that required for fulfilling the graduation requirements could, however, be funded by the Scheme, if the other requirements stipulated in the Guidelines are met.
Internship Requirements
Local or non-local full-time internship placements (no less than 35 working hours per week) with duration of no less than four consecutive weeks (i.e. 28 days). The duration of an internship period is the number of calendar days in the contract period and the start/end days must be working days for the intern.
The placement must be I&T related with its actual work containing sufficient I&T elements (e.g. technology related intellectual property work, digital marketing, data analysis, etc.)
Student Allowance
Upon satisfactory completion of the internship, each eligible student will receive allowance of HK$10,500 per month (i.e. 30 days), capped at three months (i.e. 90 days, maximum at HK$31,500) in each academic year (from 1 September to 31 August of the following year).

Guidelines for Employers and Students
Training and Coaching Services

More Information

Centre of Development and Resources for Students
Tel: 3917-5231