Enhancing self-esteem: The search for inner resources
Enhancing self-esteem: The search for inner resources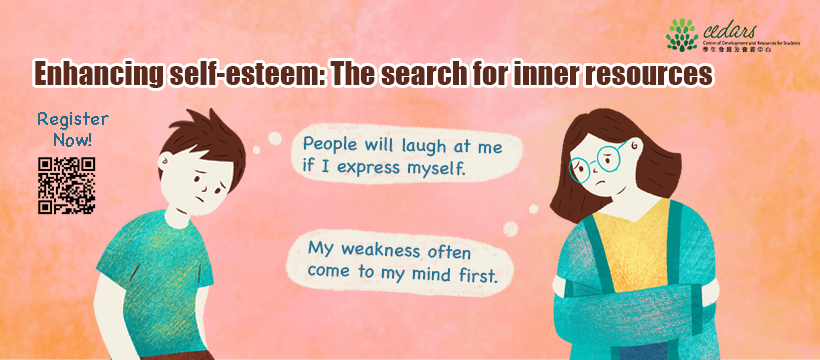 "They are smart, sociable and good-looking.
    I seem to be nothing when compared to them."
"I can hardly contribute to the groups that I belong."
"I do not have the ability to handle what I need to do."
"I dare not to apply for this internship. I will fail anyway."
Do these negative thoughts sound familiar to you? Are you giving up opportunities because you are not confident about yourself? Do you have difficulties in appreciating your own worth or abilities?
The way you see or think about yourself plays an important role in how you respond to everyday life and people around you. Biased self-perceptions not only blind us from the inner resources, such as abilities, strengths, and good characters we possess. They also limit our achievements, opportunities and fulfillments in life.

Click
here
to learn more about these thinking patterns.
This workshop endorses a cognitive approach which guides you to assess your self-esteem, identify and appraise your self-perception through reviewing your past history and experiences.

Check out the life experiences that may be related to low self-esteem
here
. 

With the step-by-step guidance from our counsellors in this 5-session workshop, you will uncover your inner resources with your peers under a safe environment.
After the workshop, you will have:
Known common biases in self-perception and interpretation of daily experiences;
Learned to take different perspectives in reviewing your experiences; and
Become more accepting, valuing and appreciating yourself.
Date: 
6, 8, 11, 13, 15 July 2022
Time: 2:00 pm - 4:30 pm

Language: Cantonese or English, depending on the participants

Venue: MW103, 1/F Meng Wah Complex

Class size: 6 - 12 students
Format: Topic sharing by trainers + small group peer sharing

Fee: Free
Trainers: Mr Philip Li, Clinical Psychologist, CEDARS & Mr Brian Lee, Counsellor, CEDARS
Registration:
Click here
(The trainers will call you to assess your suitability of joining this programme. Enrollment priority will be given to students who register first.)
Registration deadline: 23 June 2022
Enhancing self-esteem: The search for inner resources