"CoPE Ding Ding" Student-oriented Outpost
"CoPE Ding Ding" Student-oriented Outpost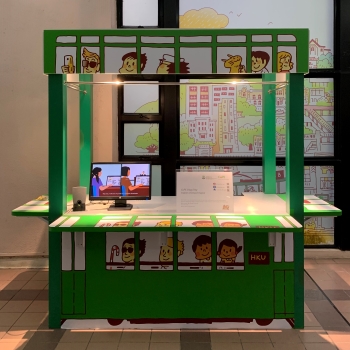 To promote social inclusion and psychological wellbeing, CEDARS-CoPE is honoured to have the renowned local artist, Ms Stella So, to re-design the UG/F entrance area of Chong Yuet Ming (CYM) Amenities Centre and a kiosk in the form of a tram (affectionately known as "Ding Ding" to the locals).
The kiosk, a.k.a. CoPE Ding Ding, is a student-oriented outpost where HKU students can chillax with fun activities. Equipped with a lighting fixture, foldable tables and chairs, and a computer with audio and visual components, it is an ideal spot for small-scale workshops, advocacy projects and promotion campaigns. With its location on an essential pathway to nearby buildings and student life hotspots, CoPE Ding Ding propels your activities to a wider audience on campus, including staff, students and visitors.
Individual students or student groups/societies are welcome to host activities related to social inclusion, mental health and wellness at CoPE Ding Ding. If you have any collaboration initiatives or enquiries, please contact CEDARS-CoPE at 3917 8388.
"CoPE Ding Ding" Student-oriented Outpost