"CoPE Ding Ding" Student-oriented Outpost
"CoPE Ding Ding" Student-oriented Outpost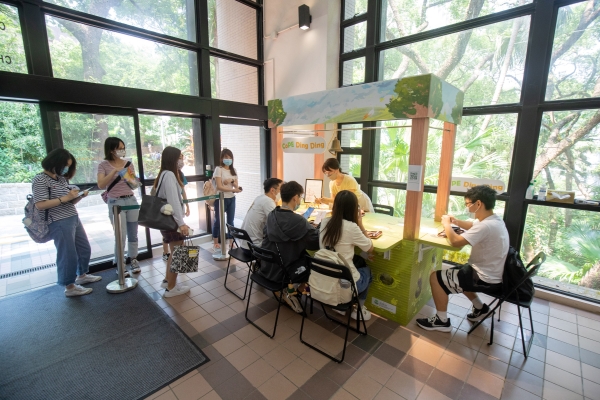 It is our honour to have the local artist, Mr. Yan Wong, to re-design the kiosk under the concept of a Zen garden. When you drop by, please slow down your pace and find serenity in the "natural" look of it. Surrounded by greenery, it is a nice spot to destress, relax and refresh your mind, before getting back to your study again.

Upcoming Workshops in November 2022
(workshop list will be updated on a monthly basis)
We collaborate with artists to hold different types of workshops and experiential activities here. These free-of-charge workshops will be held in a come-and-go format. No prior registration is needed!
Below is a brief introduction of workshops that will be held in October. Limited quota. First-come-first-served! Come early to grab your seat!
Location: UG/F, Chong Yuet Ming (CYM) Amenities Centre


Resin Herbarium Keychain (9 Nov 2022)



Resin is a versatile DIY material and you can use it in many ways. In this workshop, you can make your very own keychain using resin and a variety of dried flowers. Ornament your key, bag or anything with this colourful keychain can make your day! 




Time: 12nn-3pm 

(20 mins per session)
Kokedama (苔玉) Workshop (16 Nov 2022)




Kokedama, a Japanese-style bonsai, is a ball of soil covered with moss. It looks cute and trendy and often sits on decorative plates on a table or shelf. If you are finding an ornament to decorate your place, or need a relaxer for your busy schedule, making a kokedama is perfect for you!




Time: 12nn-3pm 

(20 mins per session)

Quota: 4 students per session

Language: Cantonese & English

Artist: Miss KK Kwok
English Calligraphy and Doodling Workshop (23 Nov 2022)




So you don't think you're good at art, but want to create beautiful postcards for yourself or loved ones? No worries! Calligraphy and illustration are never only for art talents - Come and enjoy the calmness that calligraphy and simple doodlings bring! Free stickers and postcards will also be provided!




Time: 12nn-3pm (30 mins per session)

Quota: 4 students per session

Language: Cantonese & English

Artist: @writetill2046 (student artist)


Something NEW in Centennial Campus!
Superpass (勁過) Calligraphy Workshop x Henna Art Experience (14 Nov 2022)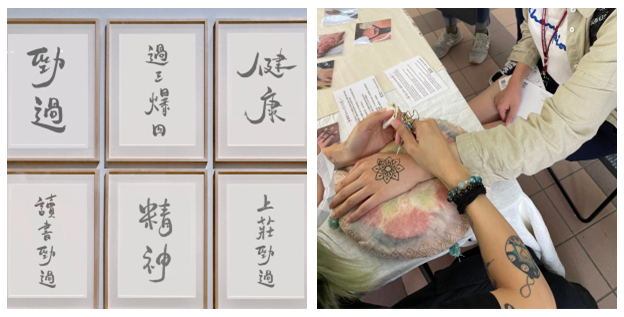 Want to know the basics of modern Chinese calligraphy and create your own Superpass postcards and stickers? Here is the chance! Superpass is an HKU phrase meaning "pass exams with distinction". It is also a traditional HKU occasion where students gather to write good wishes for the upcoming exams.
In addition, with the overwhelming support in the Henna Art Experience in September, we will rerun it so that more students can experience the charm of henna. Come and discover the henna design our artist draws on your skin, not to mention that henna symbolises luck and positive vibes.
These events are a perfect break from your hectic schedule and a great way to finish off your final weeks of the first semester!

Date: 14 Nov 2022 (Mon)
Time: 1:30pm-4:30pm
Language: Cantonese and English
Artists:
Calligraphy workshop: @writetill2046 (student artist)
Henna art: Miss Apple Tsang
Location: G/F, Centennial Campus (Outside Alfafa Cafe and East Asia Bank)

Previous workshops:

Wire Art (金屬線) Workshop (14 Sep 2022)
Art for You and Me (輕彩繪) Workshop (16 Sep 2022)
Plaster Diffuser (擴香石) Workshop (21 Sep 2022)
Henna Art Experience (28 Sep 2022)
Fluid Art (流體畫) workshop (5 Oct 2022)
Books Giveaway (7-11 Oct 2022)
Chinese calligraphy & doodling workshop (19 Oct 2022)
On-site "tattoo" experience (20 Oct 2022)
Resin Herbarium pen (浮游花筆) workshop (26 Oct 2022)

CoPE Ding Ding is an ideal spot for individual students or student groups/societies to host small-scale workshops, advocacy projects and promotional campaigns related to mental health and wellness. With its location on an essential pathway to nearby buildings and student life hotspots, CoPE Ding Ding propels your activities to a wider audience, including staff, students and visitors. 

Wheelchair users can access the CoPE Ding Ding with a stair climber available at the CYM Amenities Centre.
Contact us to know more (Email: cedars-cope@hku.hk / Tel: 3917-8388).
"CoPE Ding Ding" Student-oriented Outpost