"CoPE Ding Ding" Student-oriented Outpost
"CoPE Ding Ding" Student-oriented Outpost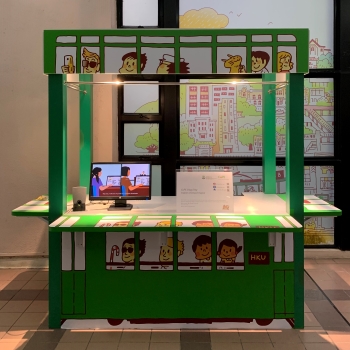 A 360 view of CoPE Ding Ding and Mural
CEDARS-CoPE is honoured to have the renowned local artist, Ms Stella So, to re-design the UG/F entrance area of Chong Yuet Ming (CYM) Amenities Centre and a kiosk in the form of a tram (affectionately known as "Ding Ding" to the locals).
The CoPE Ding Ding, where HKU students can chillax with fun activities. Equipped with a lighting fixture, foldable tables and chairs, and a computer with audio and visual components, it is an ideal spot for small-scale workshops, advocacy projects and promotion campaigns. With its location on an essential pathway to nearby buildings and student life hotspots, CoPE Ding Ding propels your activities to a wider audience, including staff, students and visitors.
Individual students or student groups/societies are welcome to host activities related to social inclusion, mental health and wellness at CoPE Ding Ding. If you have any collaboration initiatives or enquiries, please contact CEDARS-CoPE at 3917 8388.
Wheelchair users can access the CoPE Ding Ding with a stairclimber available at the CYM Amenities Centre. If you need assistance, please also contact CEDARS-CoPE at 3917-8388.
Activities held in CoPE Ding Ding
Drawing workshop by Ms Stella So
The renowned local artist, Ms Stella So has conduct a mini drawing workshop at CoPE Ding Ding with HKU students.
Brush Calligraphy mini-workshop
Brush Calligraphy is an emerging style of calligraphy that helps us calm our mind. In this 30-minute workshop, students were able to learn basic techniques and produce a postcard with their own calligraphy.
Mindfulness Handicraft Workshop Series
Mindfulness X Mindjar
When there are negative emotions, making your own Mindjar can help to calm your mind. With the little sparkles that blink and sink slowly inside the bottle, student can also let their negative feelings sink in and take a break.
Mindfulness X Dreamcatcher
Dreamcatcher is a traditional handicraft invented by native American Indian, it means bringing sweet dream to people. Through mindfulness and focusing on making the Dreamcatcher, students were able to observe their emotions, thoughts and bodily sensation. Students could share their blessings by giving the handmade Dreamcatchers to the loved ones.
"CoPE Ding Ding" Student-oriented Outpost