Study Support
Study Support
Inclusive Gathering
Inclusive gathering is a platform where students can discuss, share and interact, in order to acquire a deeper understanding on issues related to SEN. Engaging in the inclusive gathering helps members to raise awareness and sensitivity about the needs and challenges faced by people with SEN, as well as to gain insights on how to build a more inclusive campus. 

Services
Increasing material accessibility
Being able to access various materials, including lecture notes, online resources such as websites and e-journals, and other formats of learning materials like videos and pictures, is important for the learning of students with SEN. As an SEN PIN member, you will be invited to engage in tasks that involve reviewing accessibility of materials, providing suggestions on how to increase accessibility, etc.
Tour Guide for Accessible campus
Because of the uneven terrain, students with visual or physical impairments may have difficulties navigating on the HKU campus. SEN PIN members are recruited as tour guides to assist them in familiarising with the campus environment. They orient students on campus, lead them to accessible routes to classrooms and buildings, and introduce to them the major university facilities.   
Note-taker / Transcriber (face to face and/or online)
Note-taking is an essential service for students with difficulties in listening to lectures or reading course materials. Most students with SEN are keen learners, but some of their conditions (e.g. low vision, fine-motor problems, difficulties in listening and writing at the same time, etc.) may pose a challenge for them to take notes during lectures.
By jotting down and sharing their lecture notes, or transcribing audio-recordings of lectures, peer note-takers/ transcribers make an important contribution to enhancing equity and accessibility for students with SEN.
Proof-reader (online)
Some students with SEN (e.g. visual impairment, physical disability, reading difficulties, etc.) may need to access books/ readings in an electronic format. SEN Support works with the HKU Libraries to provide the requested materials.
During the electronic conversion of printed text, errors or "scannos" may appear. SEN PIN members are invited to proof-read the converted text to improve its accuracy so that it can be displayed on different assistive devices from screen readers to digital braille devices.
Specific requirements

To join the Study Support service, you are required to:
Attend two Inclusive Gatherings offered by CEDARS-CoPE: 
Mar 4, 2021 (Thur) 6:00 - 8:00pm
Mar 29, 2021 (Mon) 6:00 - 8:00pm
Format: Zoom / Face-to-face (To be announced)
Engage in at least ONE of the above services in the semester*
* Service opportunities are based on demand. 

What will I gain through providing study support?
A chance to get in touch with and provide hands-on support to students in HKU with disabilities/SEN
Deeper understanding of people with disabilities/SEN and their potential
Enhanced helping and communication skills
Raised awareness and sensitivity of disability-related issues
Opportunity to build an inclusive campus through the peer support network
Students conducting study support: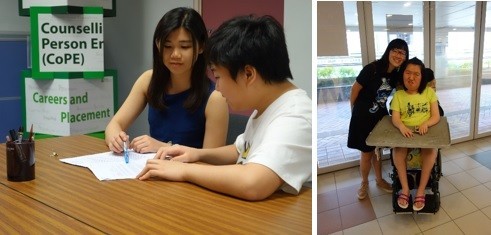 If you are interested in providing any of the above study support services, you can join SEN PIN (You can also register as a note-taker / transcriber for particular courses only).
Study Support