University Catering Services
Where to eat ON & OFF campus?
On campus, there are fast food restaurants and cafes at convenient locations that offer a wide range of local delicacies, exotic cuisines, western food, Halal Food, coffee, pastries and healthy vegetarian food, where you can enjoy with your friends at a reasonable price. There are outposts and grab-and-go counters scattered around the main campus offering light meals, beverages and snacks for those with tight schedule or in a rush. Fast food restaurants situated at Jockey Club Student Villages I & II, Sassoon Road Campus, as well as snacks kiosks in sports centre all offer ranges of delicacies to meet the demands for food.
Going off campus, you can easily find restaurants serving exotic cuisines such as South-east Asian, European, Mediterranean, Indian, American, Japanese, etc, along Bonham Road, High Street and Third Street which are all within walking distance from the East Gate. If you go further down from the West Gate, the Westwood Shopping Arcade and downtown Sai Wan are good places where you can find many other eateries. For people with special restriction on diet such as Kosher and Halal, which the campus catering services are not able to meet your needs, there are various restaurants in the territories providing such special catering provisions at a higher price tag.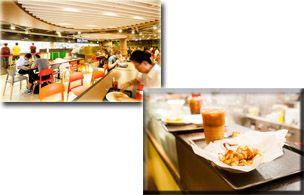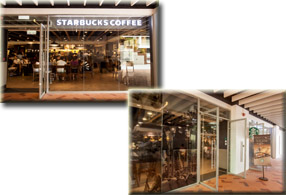 University Catering Services