Event Detail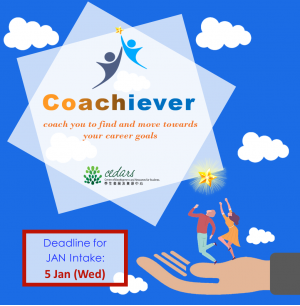 Application for Coachiever (JAN 2022 Intake) – A Career Coaching Programme for all students (Deadline: 5 Jan)
Careers and Placement Section
25 November, 2021 to 5 January, 2022
Coachiever is a career coaching programme comprising in-depth personalised coaching and customised training workshops to guide students through career goal setting, career planning and preparation. It aims to enhance students' awareness of themselves as well as the job market and workplace so as to boost their self-confidence and motivation in embarking on their career journey.
The programme has been enhanced to provide intensified workshops and simplified requirements for students to book the personalised coaching sessions. All full-time students who are in need of tailored guidance and support in defining their career goals or those who are looking for advice on tackling workplace challenges are welcome to join.
Our professional coaches will help you improve in the areas of:
1.
Self-awareness and exploration
2.
Career planning and goal setting
3.
Internship or workplace challenges
JAN 2022 Intake Application Deadline: 5 Jan 2022 (Wed)
» click
here
to have more detail «
Event Detail