Event Detail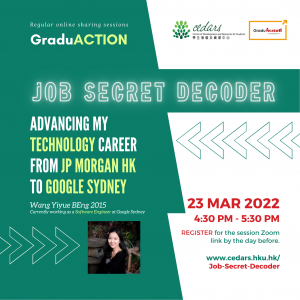 Job Secret Decoder: Advancing my Technology Career from JP Morgan HK to Google Sydney
Careers and Placement Section
Job Secret Decoder is a series of regular sharing sessions by young HKU alumni or industry experts to provide first-hand information and practical tips on how to start your career in a specific field.


Advancing my Technology Career from JP Morgan HK to Google Sydney
Are you passionate about technology and excited at solving problems to make an impact to others? If yes, you may want to develop a technology career and apply your technical skills to the job. While there are technology jobs offered in nearly every organisation, what are the career paths and how can you grow in the industry?


As part of the Job Secret Decoder series, we have invited Wang Yiyue from our full-time Class of 2015 to share about her career journey from JP Morgan HK to Google Sydney with her Computer Engineering background. This is an interactive Zoom session, you are welcome to ask questions after listening to Yiyue's story and the tips to get through the selection process in Google. No matter what your background is, join us to hear from Yiyue:
My career journey from JP Morgan in Hong Kong to Google in Sydney
The working culture, environment and dynamics in Google
What makes you a good fit for a technology company?
Interview Tips: How can you pass the screening and selection of Google?
HKU new graduates and current students are welcome to join.

» click
here
to have more detail «
Event Detail