Event Detail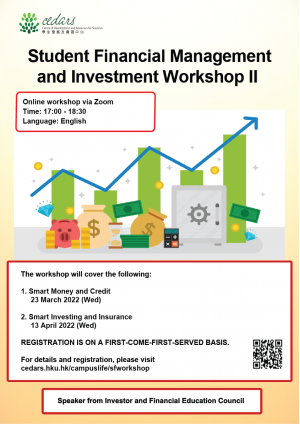 Student Financial Management and Investment Workshop II
Online workshop via Zoom (The link will be sent to the registrants by email around 1 day before the talk.)
Student Financial Management and Investment Workshop II
Be wise with your money!
The workshop aims to equip students with the essential financial management skills to budget, save, invest and manage debts. The workshop series consists of two sessions.
1.      Date: 23 March 2022 (Wed)
Smart Money and Credit
2.      Date: 13 April 2022 (Wed)
Smart Investing and Insurance
Please visit http://cedars.hku.hk/finance/talk/InvestingSeries.pdf for details on the topics.
Time: 17:00 - 18:30
Format: Online workshop via Zoom (The link will be sent to the registrants by email around 1 day before the talk.)
Language: English
REGISTRATION IS on a first-come-first-served basis.
For details and registration, please visit cedars.hku.hk/campuslife/sfworkshop
Event Detail