Event Detail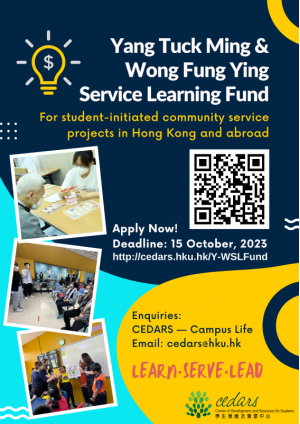 Yang Tuck Ming & Wong Fung Ying Service Learning Fund Opens for Application (Deadline: 15 Oct 2023)
6 September, 2023 to 11 October, 2023
Yang Tuck Ming and Wong Fung Ying Service Learning Fund provides financial subsidy to local HKU students to organise non-credit bearing community service projects in Hong Kong or abroad (excluding Mainland China). Application for the fund opens until 6 pm, 15 October 2023.

For application details, please visit: https://www.cedars.hku.hk/Y-WSLFund.
If you have any project ideas or seek for advice, please feel free to contact Miss Ada Leung of CEDAS (Campus Life) by email to adaleung@hku.hk.
» click
here
to have more detail «
Event Detail