Event Detail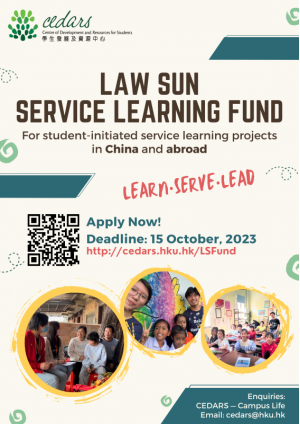 Law Sun Service Learning Fund Opens for Application (Deadline: 15 Oct)
6 September, 2023 to 16 October, 2023
Law Sun Service Learning Fund provides financial subsidy to full-time HKU undergraduate student teams to organise non-credit bearing community service projects in Mainland China or abroad. Application for the fund opens until 6 pm, 15 October 2023.
Please check out details at: http://cedars.hku.hk/LSFund.
If you have any project ideas or seek for advice, please feel free to contact Miss Ada Leung of CEDAS (Campus Life) by email to adaleung@hku.hk.
» click
here
to have more detail «
Event Detail