Quidditch Pioneers in the Concrete Jungle
Quidditch Pioneers in the Concrete Jungle
Lau Kwun Shing, Chris's Story 

Faculty of Business and Economics / Faculty of  Law
BBA (Law) & LLB

Entering the magical world of Hogwarts was a collective dream shared by many millennials from this generation.  J.K Rowling's Harry Potter series has left a legacy of wonderous creations. Quidditch, a sport combining various elements from rugby, dodgeball and tag is now played all around the world.  
A Year 4 Law undergraduate, Chris Lau is the project coordinator of "Fly for Equality".  Themed around promoting gender inclusivity, it is supported by the HKU Class of 84 Social Inclusion Fund.  Who would have imagined muggles playing their own version of Quidditch, with mock 'brooms' to beat?  As a pioneer figure in Hong Kong's Quidditch scene, Chris's story is one of perseverance and social activism. 

"Fly for Equality" fits right in with the unorthodox and daring nature of Quidditch.  Since its inception, the Quidditch community has always advocated for gender equality. Title 9 ¾ allows each team to be comprised of a diverse mix of individuals, regardless of their gender identity.  The ratio of 4:3 in the rulebook is ground-breaking in many areas.  It continues to be a positive forerunner for smashing archetypical societal ideals. 
The HKU initiative began with Hong Kong's first Quidditch exhibition tournament. A strong lineup comprising of South Korea's Seoul Puffskeins (Seoul National University) was invited along with players hailing from Malaysia and the Philippines. Although the Puffskeins emerged as the champions, the momentous occasion meant that all who participated had gained valuable memories. Universal to all individuals, Quidditch is a symbol of empowerment. Chris happily reported that thirty new recruits had joined their training session after the exhibition match.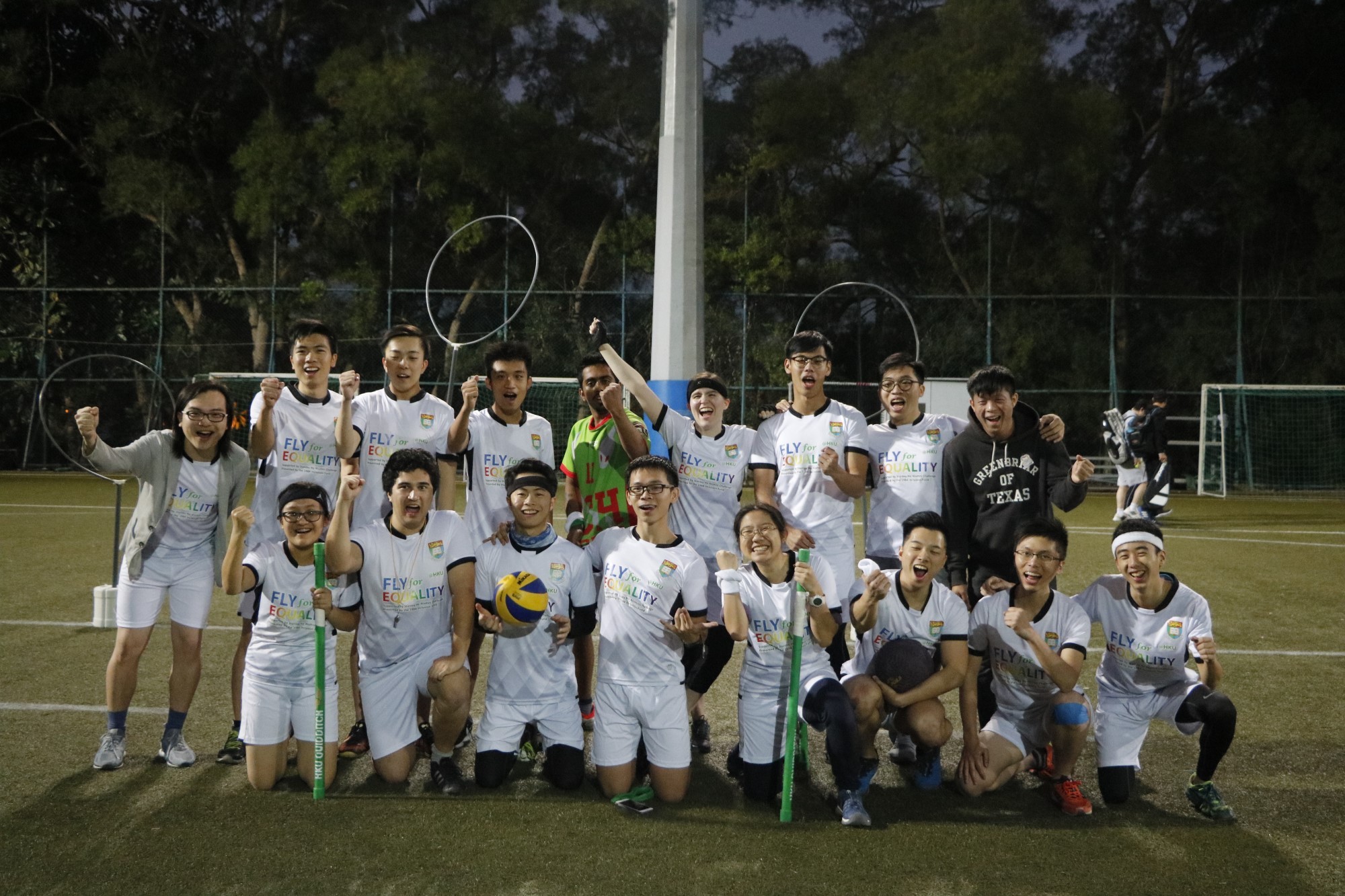 "Time will only make them stronger."

The tournament demonstrated a normalization of gender perceptions. Sports is a great way for practical exploration outside the classroom. Even against seasoned players, the HKU team didn't back down from a challenge. They generated an admirable strength with grit and determination.  Time will only make them stronger, and Quidditch players are proof that being a game changer in our society can be fun! 
Chris sees a promising future for Quidditch. This June, he hopes to form a national team representing Hong Kong for the IQA Quidditch World Cup in Italy. Judging by the rapid expansion of HKU's own Quidditch team, all it takes is a little bit of magic and lot of passion. Intrigued by the prospect of 'flying' high? Have a desire to shift towards the cutting edge of field sports? Drop in for a trial session with Chris and fellow Quidditch enthusiasts!  To know more about their organization, follow their Facebook page at HKU Quidditch (@hkuquidditch) and the website of Hong Kong Quidditch Association.
Written by:
Teresa Chung
Year 1, Faculty of Social Sciences
April 2018 
Quidditch Pioneers in the Concrete Jungle