Protecting the World Medicine Supply Chain
Protecting the World Medicine Supply Chain
Garg Oshi, Agarwal Raghav and Kashyap Abhigyan's Story

Awardee of 24th Recognition Ceremony

Faculty of Engineering
BEng
The 3 Computer Science students, Garg Oshi, Agarwal Raghav and Kashyap Abhigyan, made an impression in the IndianTech Hackathon 3.0 last year. Their team product - SupplyEasy, which aimed to secure the international medicine supply chain, stood out from all other products in the contest. 
"We found that around 200,000 kids die every year due to counterfeit medicine. We know that we need to stop this illegal counterfeit medicine and make the supply chain more secure," said Abhigyan. The team strives to differentiate authentic medicine from counterfeit ones by utilising the QR code technology that tracks the medicines through the entire supply chain. Meanwhile, IoT (Internet of Things) devices are used to give real-time updates about the quality of the medicine to ensure medication safety.  Raghav added, SupplyEasy was created to forecast the demand for medicines in the market to bridge the gap between supply and demand. 
Majoring in Computer Science, the three students believe that their skill sets should not be confined to the IT field. As Abhigyan pointed out, studying Computer Science is not only about coding, but it's about solving problems. Therefore, the 3 of them chose to contribute their ideas to the medical society and solve a global problem. 
"Their wonderful teamwork was the key to triumph."
Under the pandemic, collaboration was the challenging part of the competition. Since 3 of them were located in different time zones, it was challenging for them to coordinate during the 48-hour Hackathon. Despite all these challenges, the three young people were determined to stick together through thick and thin. Their wonderful teamwork was the key to triumph.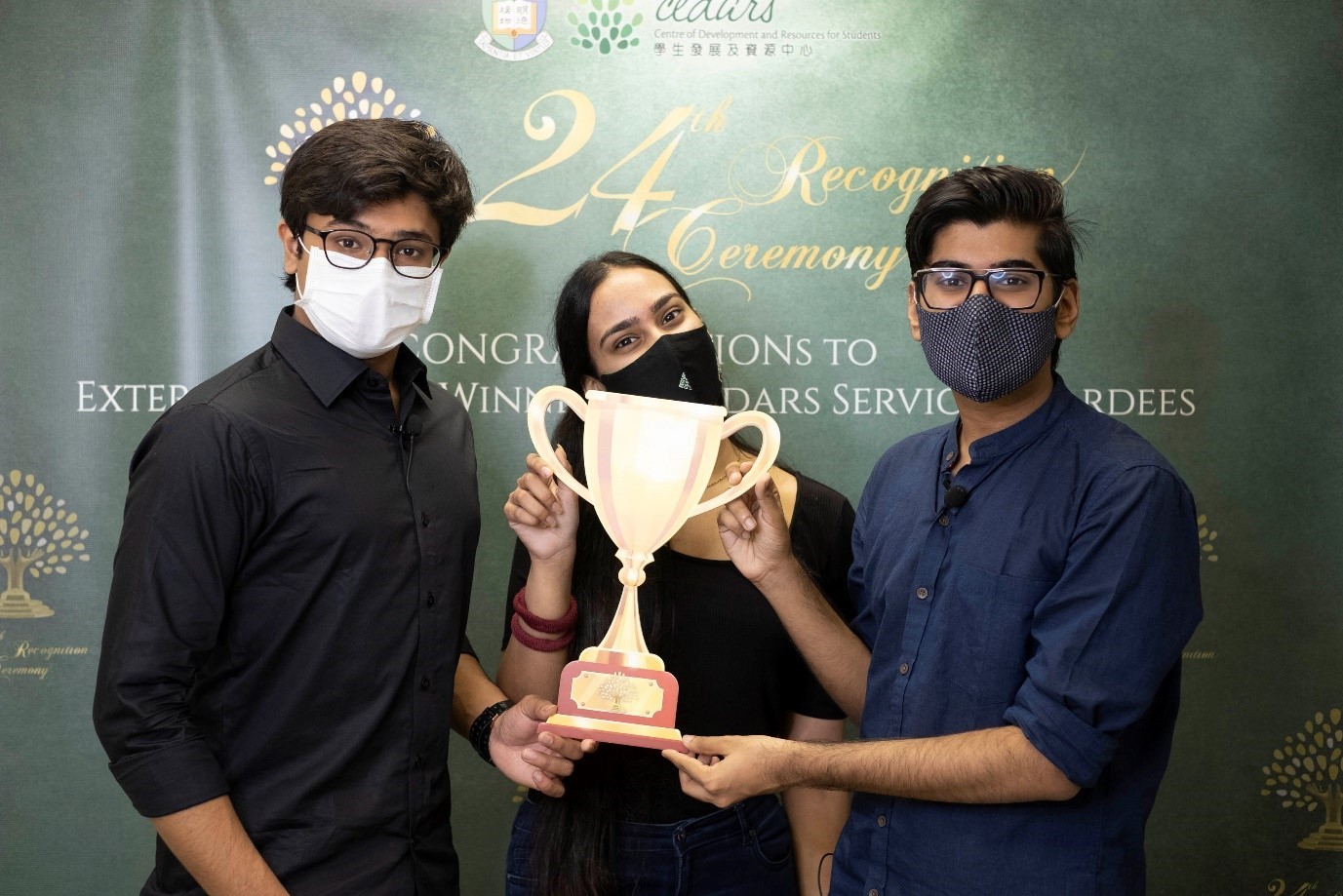 Rewards aside, friendship seemed to be another biggest gain for the three of them. After experiencing those ups and downs in the contest, the 3-course mates became even much closer than before. A friend in need is a friend indeed. Oshi laughed when she recalled the unforgettable moments in the contest," Raghav forgot to wake up for the product pitch. We tried every single means to wake him up from afar by contacting his cousins, parents and relatives," Apparently, mutual support played a vital role in building their team spirits. Hence, with such a strong rapport established in their friendship, they could solve problems efficiently under any circumstances.
On top of that, the three of them complemented each other very well, and that's what made them the best team ever. Oshi was a master presenter. Abhigyan was good at Figma and prototyping. Raghav was excellent at blockchain and IoT. They were immensely supportive of each other, especially during the product pitch when they had to present their product in front of the industry experts. 
When asked about the future development of SupplyEasy, Oshi mentioned that the team has been trying to obtain the IP for their creation. Hopefully, the three founders will be able to progress to the startup level in the future. 
More about the winning team: 
Written by:
Tracy Wong
Year 1, Faculty of Arts
Video recorded by:
Li Yu Hong 
Year 4, Faculty of Business and Economics (HKU Business School)
March 2021
Protecting the World Medicine Supply Chain