Expressions through Dancing
Expressions through Dancing
Law Hoi Ting's Story

Awardee of 24th Recognition Ceremony – Above and Beyond Award

Faculty of Business and Economics (HKU Business School)

Alexandra has been dancing for approximately 18 years and has since won many outstanding awards. In the past year, she won a gold medal in solo oriental dance in Hong Kong (Asia) Solo Dance Competition 2020 and silver awards in both the Oriental category and Chinese category in the Hong Kong Open Dance Contest 2020. She is also now a certified rhythmic gymnastics judge in Hong Kong.
Alexandra's unwavering passion for dancing is what got her to where she is today. She never gave up on dancing even though she was rejected by the school team not once but twice when she was younger. Because the only way left for her to be able to continue dancing is to do it alone since she has been denied to dance in a group, even if Alexandra previously hated ballet because of its characteristics, she carried on dancing and loved the sport more than she feared loneliness. As she grew up and danced over the years, she became accustomed to loneliness and thanked it for getting her to where she is today.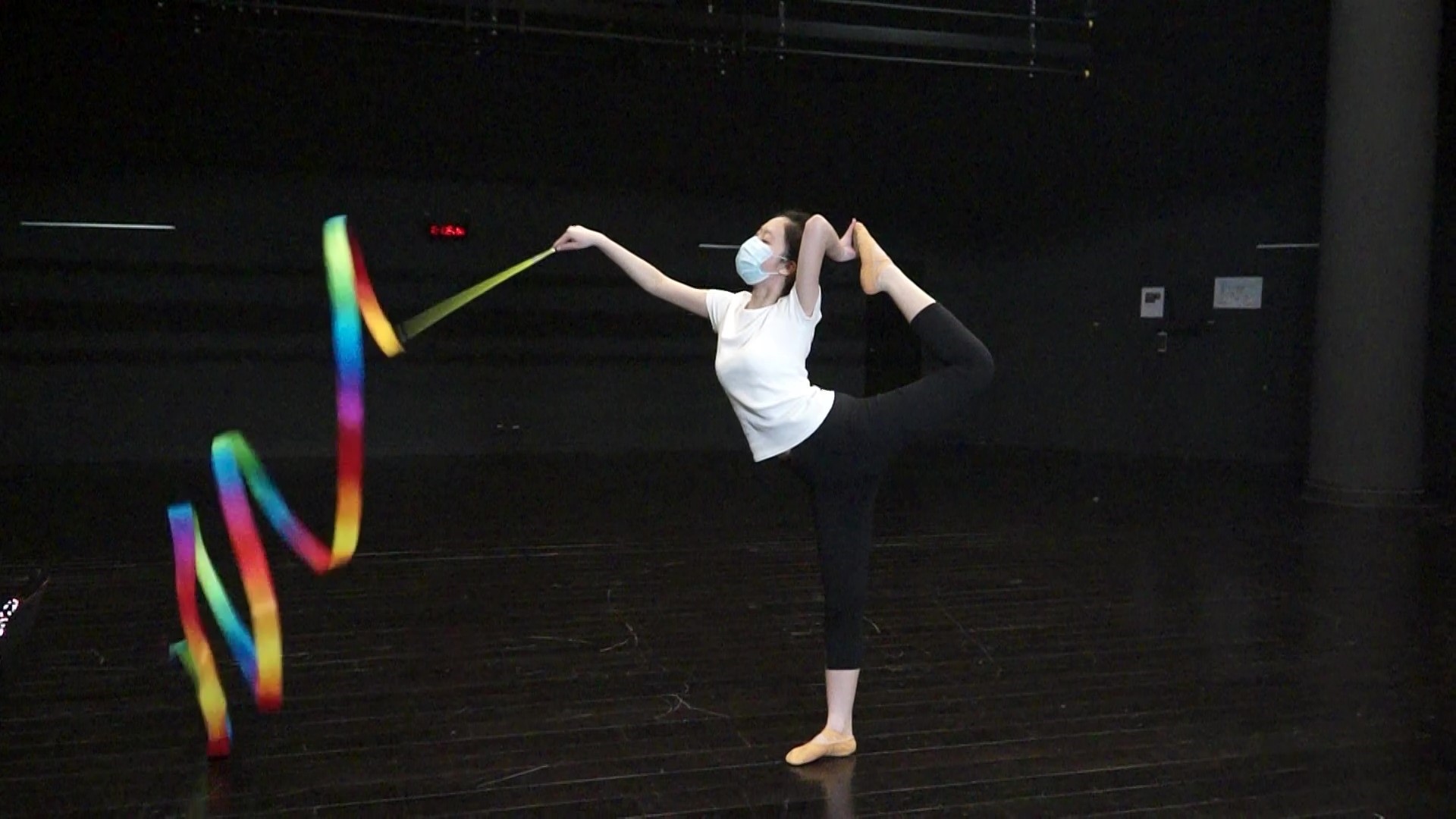 "Dancing is my best friend. Whether I am feeling happy or sad, I use dancing to express my feelings. Dance and gymnastics can also express my stress and inner feelings because I can get a space of relaxation during my studies."
 "No matter how good you are, you may win many outstanding awards one year but may get nothing in the next year."
As a dancer, Alexandra believes that it is never certain in terms of achievements since the nature of dance competitions is often fluctuating and volatile. "No matter how good you are, you may win many outstanding awards one year but may get nothing in the next year," she explained. Alexandra is used to the various outcomes of dance competition, and looks beyond winning. Instead, she feels that the most significant moment for her for each competition is the moment she gets fully geared up and dressed up, where she will tell herself to play the role of her next dance. With this, she can feel and enjoy the moment, living in the fantasy of dancing; however the outcome may be.
It was a challenging year for Alexandra in 2020 because of the pandemic. It was hard for her to practice since all dance studios were closed, and her own space was too small for dance routines. Therefore, with that many restrictions, her movements were limited, and she often knocked over things or the wall. She could only perform simple stretching exercises to keep herself flexible. The COVID-19 outbreak also occurred when Alexandra was undergoing her exams to be a certified judge in Hong Kong. At that point, Alexandra was worried she could not attain the status of being accredited judge due to many circumstances, such as competitions being cancelled. Fortunately, she often took the time to practice judging through watching videos and managed to take the final practical exam, which is the last requirement to be a certified rhythmic gymnastics judge, and finally received her well-deserved recognition in December 2020.
"The certification means a lot to me. As a gymnastics lover, I want to be a certified judge because this provides me with the opportunity to contribute my love and dedication to gymnastics and the dancing community."
Being a certified judge is certainly not easy for Alexandra, especially during the current global pandemic. Nevertheless, her passion and dedication paid off as she persevered and achieved the certification despite the various circumstances. While 2020 is an unpredictable year, Alexandra and the other certified Hong Kong judges embrace each other and strive for the same goal even with different identities. Together, they strongly encourage all dancers to keep going despite the hard times and for all to enjoy the beauty of dancing.
More about Alexandra:
Written by:
Samantha Ho
Year 4, Faculty of Business and Economics (HKU Business School)
Video recorded and produced by:
Chan Tsz Lam 
Year 3, Faculty of Arts
March 2021
Expressions through Dancing