A Simple Token To A Long Journey
A Simple Token To A Long Journey
Sharon Rai's Story
In the first weeks of the coronavirus outbreak,
Aama Ko Koseli
has decided to continue with their Beyond Body Exhibition. Smashing the stereotyping standard of women's beauty, this multidisciplinary production has featured various projection media. But behind these reflection-provoking images, artworks and video clips, the spectators have witnessed a spirit of civil obligation in the organisers' mind, pointing towards women and children empowerment in Hong Kong, and Nepal. One of the founding members of this non-profit organisation, Sharon Rai explained how the empowerment group ties with herself, footnoted with her encounters in Nepali marginalised communities. 
The name of the organisation, roughly translated as 'Mother's Token of Love,' enshrines maternal bonding. This token has been more than important in societies like Nepal, where patriarchy still occupies a ruling status. 
Sharon described the beginning of everything as this: "I joined on a whim. Back then, I didn't have any expectation. I want to give credit to our chairperson, who suggested starting this because this decision led us to wider curatorial flexibility - we've dipped our toes in many issues, including menstrual taboos, mental health, LBGT+ marginalisation, and street sexual harassment."
Not a particularly enthusiasm-motivated person, Sharon agreed with a slight hesitation that Aama was an expression of her sense of civic obligation. Rather, she was attributing her active participation in social awareness campaigns to the upbringing.
"The fact that I was born and raised in Hong Kong has given me so many opportunities. If Nepali children have the same chance, they could probably achieve more than me. I'm lucky to have attended HKU, otherwise, I would never understand the ground situation of my home country."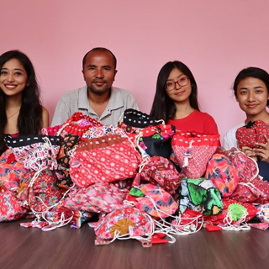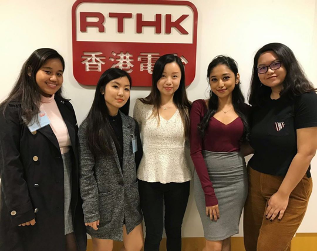 "An empowered person is the one who knows they have choices and actively makes the choices that they want to choose."
Sharon observed that gender and social inequality in Nepal has been a hybridised outcome of social conventions and religious influences, resulting in generations of discriminatory mindset. But she revealed that her generation, with more international exposure, has started to inculcate some notions of misogyny and patriarchy in this Casteism-ruled state.
"We are supposed to be the educated, open-minded, modern Nepalis!" This exclamation narrated the existence of her quest in liberating prejudicial traditions, which primarily includes chhaupadi - a conventional practice of banishing menstruating girls and women to external huts.
Targeting to eliminate menstrual taboos, we organised different workshops to various marginalised communities. In Surkhet and Kathmandu, we distributed reusable pads to women alongside discussing with children chhaupadi using comic books. The whole journey was documented, and later screened in HKU with a panel discussion," recalled Sharon.
While the abovementioned project accessed the menstruation-related knowledge, they acquired daily-life skills in Nepal Empowerment Project. Being last year's coordinator of NEP, Sharon characterised this project as a cultural exchange, instead of a unilateral service: "We were playing fun games with kids, and teaching women how to craft and knit. As they developed their interests and domestic skills, we understand their issues more substantially."
"But we need a longer, more consistent time frame to see substantial development. I think people start to realise that things must change - but circumstances aren't favourable, yet." The journey of empowerment is long.
What constitutes an empowered person? "A person who knows they have choices and actively makes the choices that they want to choose." However difficult the journey may be, Sharon unveiled her decisive answer, unequivocally.
Written by:
Amadeus Cheung
Year 4, Faculty of Laws
October 2020
A Simple Token To A Long Journey