Soap Cycling
Soap Cycling
Yeh Chun-hao's Story
Faculty of Business and Economics (HKU Business School)
BBA(IBGM)
A place's public hygiene gains maturity every time when diseases come. In cosmopolitan cities like Hong Kong, the 1894 Plague, the SARS, and the COVID-19 pandemic were amongst the most influential incidents that reminded us of these sanitary concepts. However, many more vulnerable regions and communities still suffer from the lack of sanitary products and proper hygiene education because of various socio-economic reasons. 
As our fellow Yeh Chun-hao, Andy participated in a social-friendly Soap Cycling workshop called , he has observed and gauged the effectiveness of some public health policies. How does recycling correspond to the public awareness of sanitation? 
Established in 2012, the organiser has been co-operating with hotels in Hong Kong and other Asian regions to recycle discarded sanitary products. Being reassembled in the processing factory in Hong Kong, these products are then sent to the developing areas in Southeast Asia and Africa, as well as local disadvantaged communities.
With enthusiasm -in working for social enterprises, Andy joined the organisation through a university course in his degree curriculum. He began his sharing by recalling a distribution event, of which he took charge, "We were at an institution helping children with disabilities. It's inspiring to see the children trying hard to help us packaging the sanitary bags for other needy groups. These children are often regarded as the needy, but throughout the event, I have witnessed their all-out effort and devotion."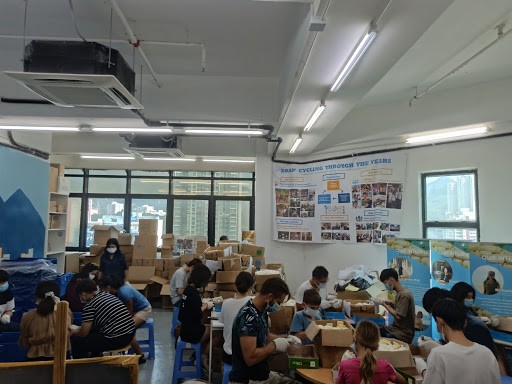 "I always remind myself the significance of doing all these things."
He discerned that the hard skills learned from studying Business and Economics were not entirely relevant in Soap Cycling: "The more would be on the communication and management strategies, such as liaising with agencies and volunteers, as well as collaborating with other interns. And most importantly, I always remind myself  the significance of  doing all these things, no matter what kind of work I - contribute."
What is the significance? This Taiwanese student did not forget to reflect on the socio-economic dynamics and rationales behind the organisation's sanitation campaigns.
"The facilities and systems of water and sewage processing are key players of a place's sanitary effectiveness. Simply taking the recent COVID-19 cases as an example, the problem of uncleaned and irregular water pipes in many residential buildings have repeatedly been pointed out as a major virus-contacting source. We witness that, from the fundamental level, how dangerous if these infrastructures are flawed."
Andy admitted that, on the one hand, Soap Cycling cannot solve this big issue as it requires governmental management. On the other hand, he aims at raising public hygienic awareness by providing sanitary items to underprivileged groups and educate them all along. "Frankly speaking, recycling consciousness in this city is low. Although recycle signs are available on the public waste disposal facilities, wastes from private buildings are often mixed, further bringing in hygienic concerns. If more and more people are aware of the issues, it's more likely that the government and large enterprises will turn the turbines and refuel the engine of public sanitation."
Written by:
Amadeus Cheung
Year 4, Faculty of Law
February 2021
Soap Cycling