From Deficiency to Dignity – a Human-centric Transitional Housing
From Deficiency to Dignity – a Human-centric Transitional Housing
Chan Kwan Yui Katie, Chan Wing Bun Ben, Hui Chin Ho, Yik Tsoi Ying's Story
Awardee of 25th Recognition Ceremony

Faculty of Architecture
BSc(Surveying), BA(UrbanStud), BA(UrbanStud), BA(UrbanStud)

"Despite living in transitional housing, you still deserve dignity and decency. You can still live a good life and feel truly belonged to the neighbourhood" –  such aspiration has motivated Yik Tsoi Ying Iris (BA[UrbanStud]), Chan Kwan Yui Katie (BSc[Surveying]), Chan Wing Bun Ben (BA[UrbanStud]) and Hui Chin Ho Howell (BA[UrbanStud]) to take part in the recent "Planning and Design Competition on Transitional Housing in Hong Kong" held by The Hong Kong Institute of Planners, and Young Planners Group,. Among a total of 14 entries from young professionals, the team won a second place with their human-centric and quality project at Sam Shing.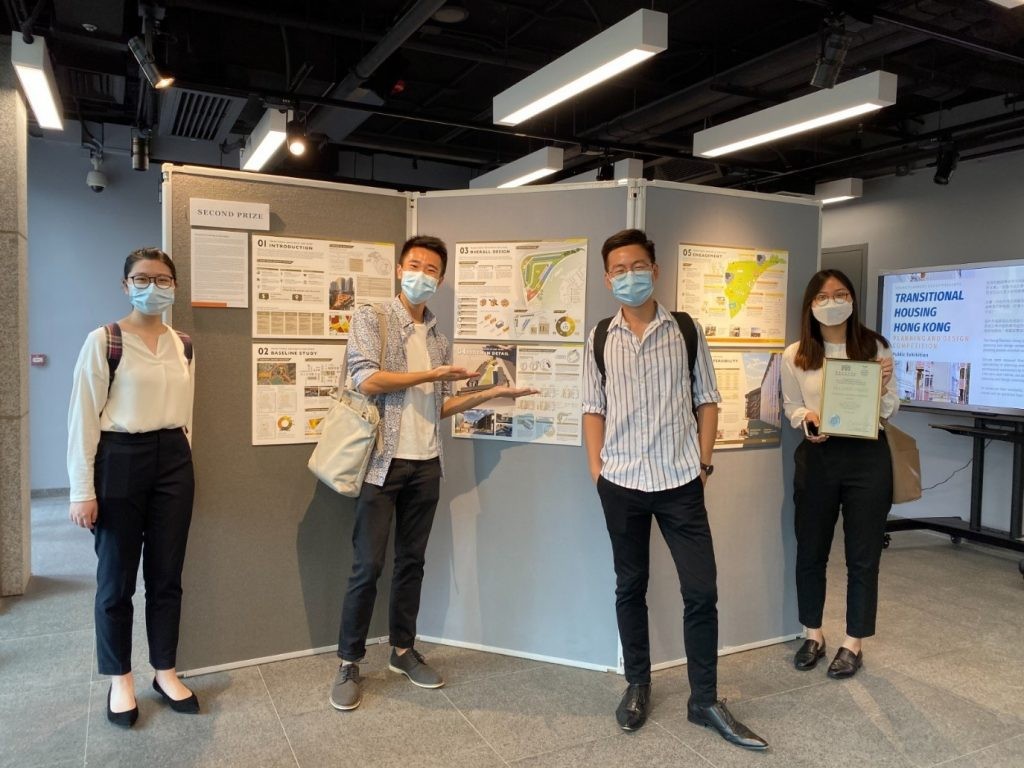 When asked about how they come together as a team, Howell recalled, "Ben, Iris and I were group mates in a course from Urban Studies, in which we applied the skills we learnt to build a project model. However, we have always wanted to create some kind of designs that is not always about good grade, but also about expression of ourselves. Then, we had Katie from surveying background in our team with different skills set, which made our team even better."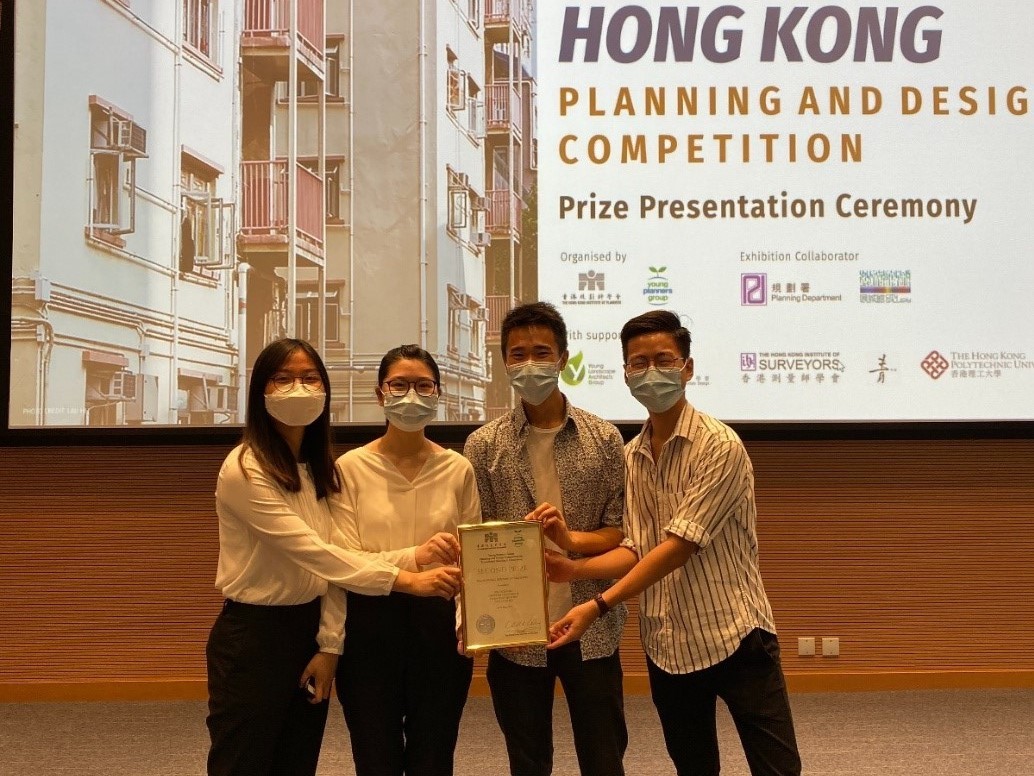 Being determined to create a people-oriented design that truly suits the residents, the four of them spent more than weeks on selecting a site that offers not only sufficient infrastructure but also decent living environment, and at last Tuen Mun Sam Shing became the destination for their project to land and pilot. 
"We want the residents to live decently and gain a sense of place with the community."

"We understand that transitional housing may not last long in the neighbourhood, however we still want the residents to live decently and gain a sense of place with the community," the team not only cognizantly put the communal kitchen at the end of the corridor on each floor so as to minimize the potential noise, heat and fume generated to the household, but they also meticulously adjusted the orientation of each flat to ensure adequate light penetration. With a view to cementing the whole community and developing a sense of place among them, a token system was also innovatively drafted to encourage residents to participate in community events in exchange for tokens that can be used to purchase daily necessities.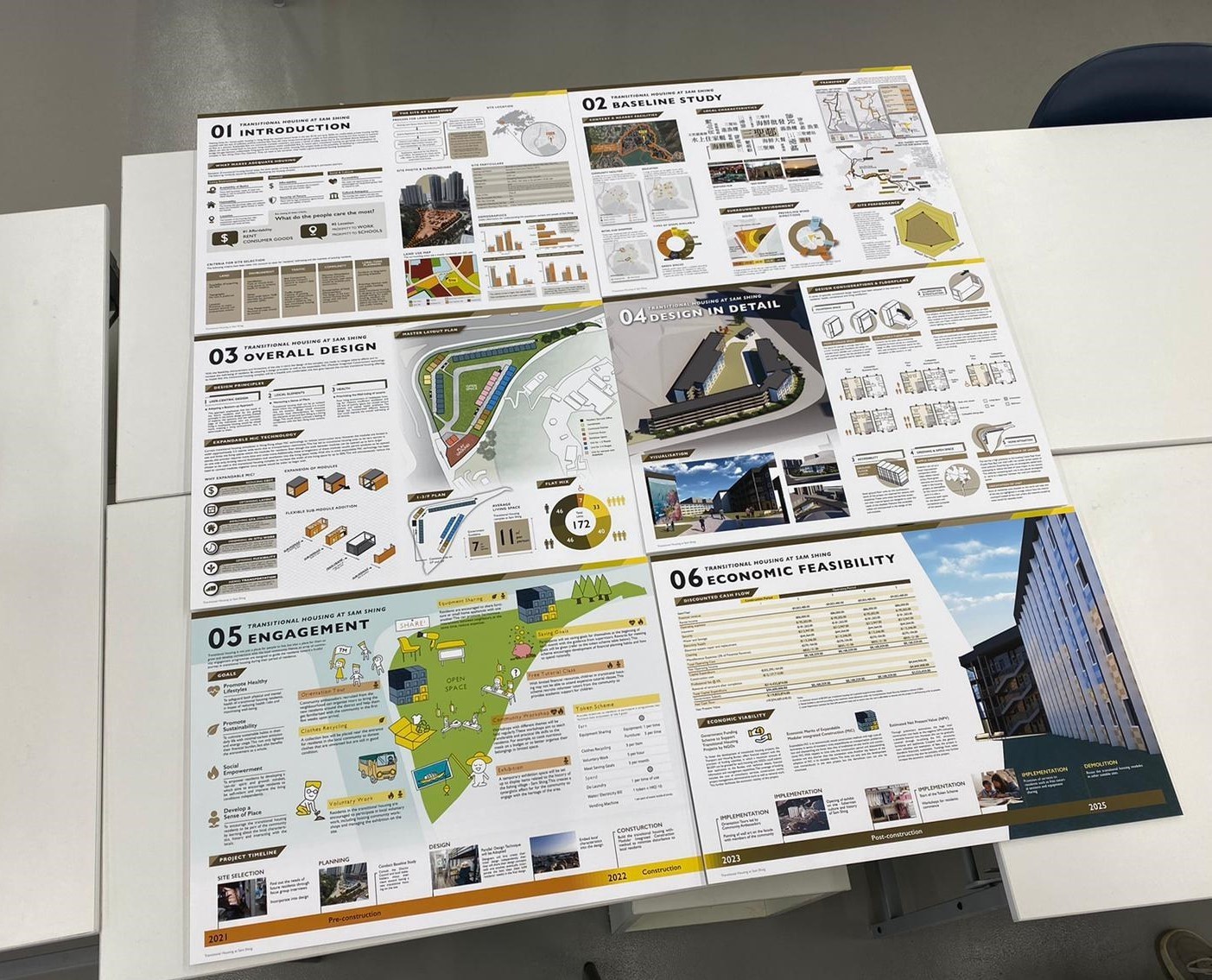 "Everything here has an expiry date, and they all will be dismantled one day," lamented Ben. However, they share a genuine future vision that, although the residents of transitional housing may leave just after a few years, they can be prioritized in the public housing units in the Sam Shing so that the once hard-built community bonding will not be lost. In their dream, housing should be more than a physical containment, there should be laughter, tears and above all memories. 
Written by:
Carmen Ng
Year 4, Faculty of Social Sciences
April 2022 
From Deficiency to Dignity – a Human-centric Transitional Housing