Standing on a Global Arena in Advancing Climate Solutions
Standing on a Global Arena in Advancing Climate Solutions
Cheung Kong Wai's story
Awardee of 26th Recognition Ceremony
Faculty of Science
BSc
Mark Cheung, who is in his final year majoring in Environmental Science, is a staunch climate advocate. His immense passion and enthusiasm about environmental policy, climate justice and education have motivated him to participate in the 27th Conference of Parties (COP27), organised by United Nations Framework Convention on Climate Change (UNFCCC). This event is the largest international climate change conference rallying global leaders, climate researchers, eco-activists, and more.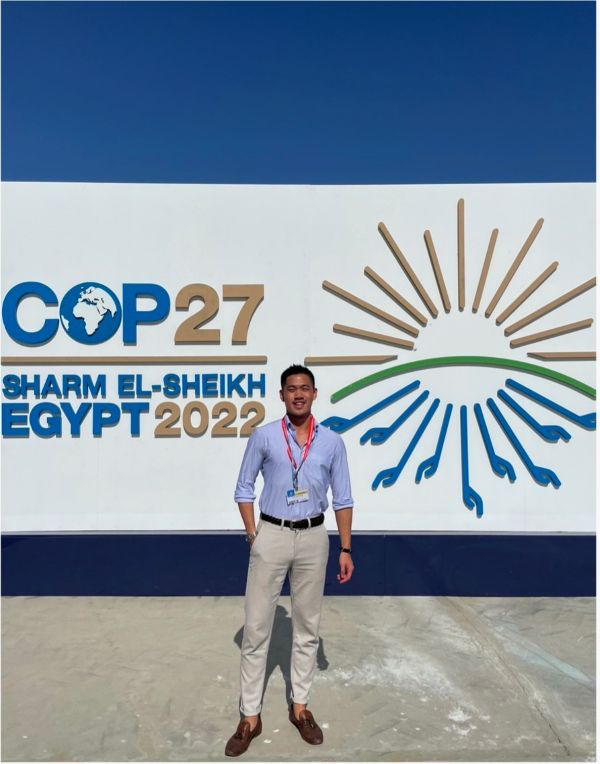 Mark, represented our school and Hong Kong in attending the 27th Conference of Parties in Egypt.
Notably, this is the second year Mark joining this United Nations climate change conference, in which he was as well in attendance in the COP26 held in Glasgow, United Kingdom, as the only Hong Kong youth representative. With precious insights garnered from it and witnessing an under-representation of Asian faces last year, he devotedly initiated student recruitment at HKU for COP27, and teamed up at the end three other HKU students to take part in it. Like climate change as an interdisciplinary topic, his team of four had a diverse combination, including Mark himself specialising in environmental studies, and his teammates from the medicine, law and business faculties focusing on public health, green finance, and global migration. In the two-week conference held in Sharm El-Sheikh, Egypt, they collaborated with transnational youth to draft policy proposals, worked in climate negotiation panels as observers, and lobbied national climate negotiators in bilateral meetings.
"Do whatever that makes you uncomfortable."
Converging the dual experiences in both years at the conference, Mark shared how golden the opportunity was in attending an international conference at a scale like this. Mark recalled, "I still remember a morning having breakfast with Asian delegates, followed by a lunch gathering with other participants from Africa, and subsequently a supper with Canadian First People Indigenous youth group during the conference." He invites himself to be an opportunist and do whatever that challenges himself. As Mark shares how stretching it is to take part in COP after a series of fundraising processes and promotional efforts, he also hopes to remind everyone to cherish the identity of being a student that offers us the privilege of great flexibility and huge room of trial and error. Attending COP is a way he maximises his university life. He encourages us to make good use of the resources we have and explore more different things, whether it be local, or global.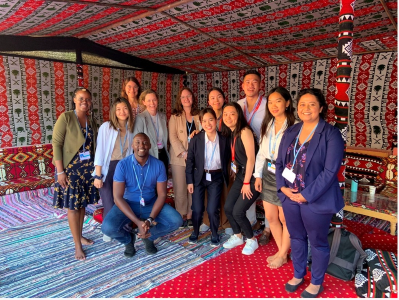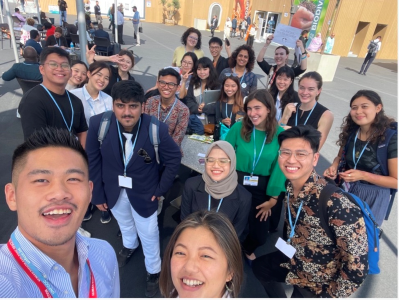 Be explorative and engaging – one great thing Mark truly enjoyed in the international conference was the multi-cultural mix of participants.
Mark is about to graduate soon. One of the anticipations he has is to change from a young student delegate identity to a full-time policymaker role when he may attend the Conference again. Though his identity will change, what will not be changed is his continuous passion in driving impacts in the climate space!

Written by:
Jonathan Ngai
Year 3, Faculty of Social Sciences
April 2023
Standing on a Global Arena in Advancing Climate Solutions