Taken a Step Forward: From Athlete to Judge
Taken a Step Forward: From Athlete to Judge
Law Hoi Ting's story
Awardee of 26th Recognition Ceremony
Faculty of Science
BSc
Having been a dance enthusiast from a very young age, Alexandra Law has achieved a number of awards in dance competitions and also accomplished a Judge Certificate in Rhythmic Gymnastics in the Olympic cycle 2017 – 2020 in previous years. 
In 2022, she took a step forward earning the qualifications of FIG International Judge in Acrobatic, Aerobic, and Rhythmic Gymnastics in the Olympic cycle of 2022-2024. "I believe it's a mix of continuation and new recognition."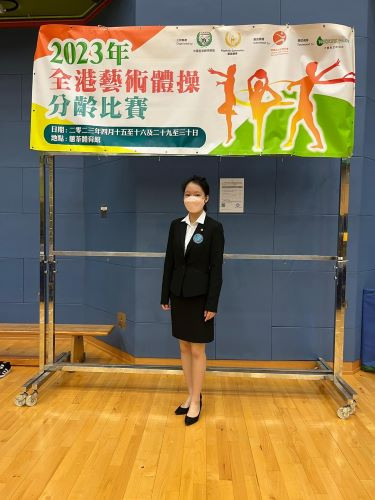 Alexandra partook as a judge in the gymnastics competition.
Taking judging exams in three gymnastics was pretty demanding for Alexandra. By the end of the Tokyo Olympics in 2021, a new code of points has been introduced to be implemented from 2022 to 2024. She was then required to make changes to the previously recited scoring frame for adapting to the new judging system.
Being aware of the fact that every single mark she adds or deducts affects someone's achievement, Alexandra took the revision seriously and recited all the bases and criteria of the current Olympic cycle. However, while Alexandra was struggling with the packed examination schedules and requirements, she got COVID during the preparation for the Rhythmic Group and Acrobatic Gymnastics exams, where she made minor blunders on her performance. By making a tremendous effort, Alexandra eventually survived all three gymnastics exams despite a few unexpected twists and turns.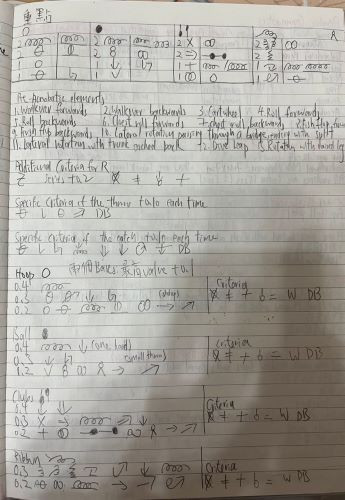 The last minute notes for her gymnastics exams
During the training for judge examinations, she was required to watch the replays of a specific performance over and over again throughout the day. Transforming from an athlete to a judge no longer required her to demonstrate her capability through performance but the accuracy of the scores she offered. 
"There are no competitions among the judges. If you don't truly love gymnastics, soon you will find it boring without the motivation from medals," said Alexandra. Experiencing the change of role, Alexandra was more certain of her passion for gymnastics. 
"I am not working for recognition; I am working for what I really enjoy."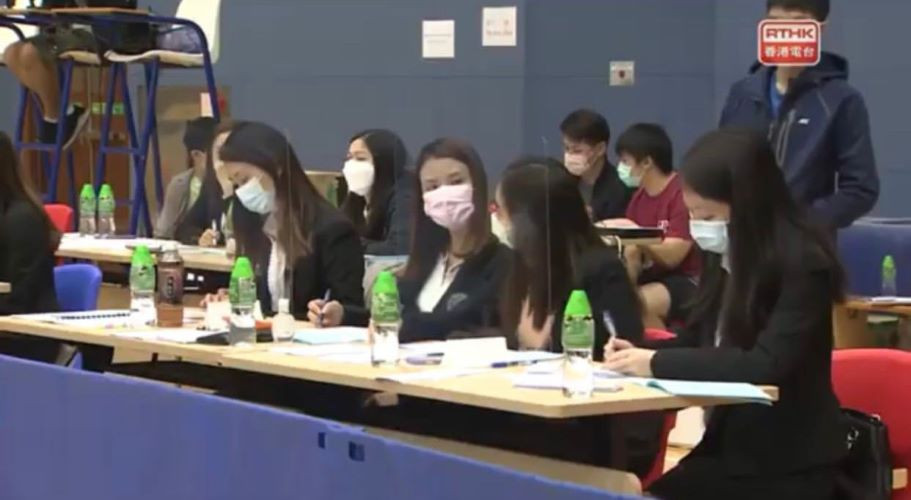 A screen capture from RTHK provided by Alexandra
Over the years, Alexandra observed that there were stereotypical views of gymnastics in Hong Kong. She said the majority of Hong Kong people only had shallow ideas about the nature of gymnastics, yet parents tended to think being an athlete may ruin one's academic performance.
As a fourth-year Science undergraduate, Alexander maintained there was no collision between academics and one's engagement in sports; furthermore, she aspired to universalise gymnastics in Hong Kong. "It's all about whether we can manage our time well." 
Up to that point, Alexandra hoped to contribute more to the local community with her title of FIG Brevet Judge in three types of gymnastics. By taking heed of the regulations of the current Olympic cycle, she believed she could give guidance to both the athletes and coach, aiming to improve the overall performance of Hong Kong gymnastic athletes and eventually nurture more talents with her judge capacity.
Even though the judging examinations are competitive with only a couple of athletes' recommendations from the Gymnastics Association of Hong Kong, Alexandra encouraged students who aim to become gymnastics judges should believe in themselves and be brave. "Perseverance and diligence are keys to making dreams come true!"
 
Written by:
Charlotte Kwan
Year 2, Faculty of Social Sciences
April 2023
Taken a Step Forward: From Athlete to Judge