Critical self-reflection, greater understanding of others, and upholding personal and professional ethics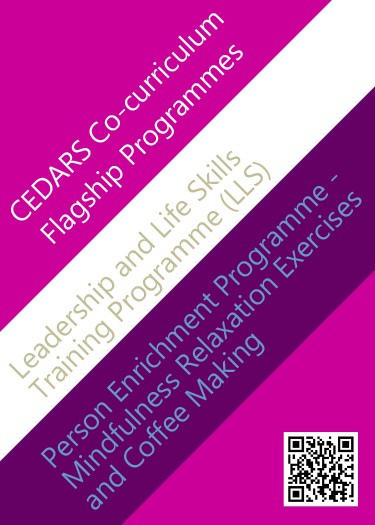 Leadership and Life Skills Training Programme (LLS) *
This programme is designed to facilitate students to develop attributes and skills that enable them to survive in today's highly competitive world.  It also prepares students to make a contribution to society. 
Facilitated by professional counsellors and instructors, participants will join intensive self-reflection sessions on their personal values, strengths and limitations, as well as leadership skill building activities. They will also have the opportunity to receive genuine and constructive feedback from peers and form a supportive learning community.
Key feature activities include:
• Workshops on self-understanding, leadership and teamwork
• Outdoor adventure camp
• Experiential learning to put theories into practice and consolidate personal growth
Person Enrichment (PE) Programme – Mindfulness Relaxation Exercises for Well-being and Coffee Making
Breaking out of daily routines by joining the Mindfulness Relaxation Exercises and Coffee Making workshops will provide you with moments of tranquility for self-reflection and genuine interactions with others in a relaxing environment.      
Mindfulness Relaxation: Learn how to relax yourself mindfully and see how this can be built into your daily schedule to help you manage your everyday stress more effectively.  This workshop will provide you with a new experience of serenity through mindfulness relaxation.  
Coffee Making:
Brewing coffee with your friends can be very relaxing. Join our experienced barista at cafe330, a social enterprise on campus, to boost your coffee knowledge, try coffee brewing, make cool latte art and have fun with your fellow school mates!
Visit 
cedars.hku.hk/cope/workshops
 for more workshops and fun activities!
* 
These learning activities are pre-approved programmes under 
Credit Award Scheme for Out-of-classroom Learning Experiences
. Students who successfully completed the Programme will be eligible to earn 1 credit of the Credit Award Scheme by submitting an application to the Horizon Office for 
formal approval
.
Critical self-reflection, greater understanding of others, and upholding personal and professional ethics