Pursuit of academic/professional excellence, critical intellectual enquiry and life-long learning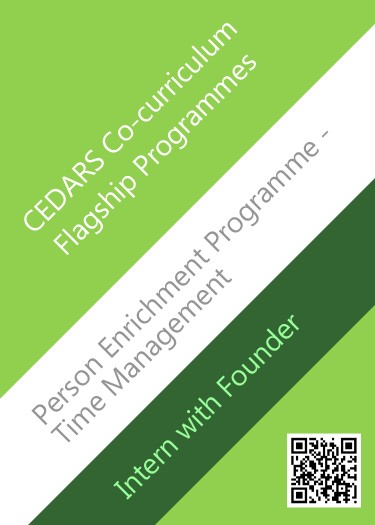 Person Enrichment (PE) Programme – Time Management
Time management is an essential skill for any university student. Those who manage their schedules well find it easier to balance their studies and other commitments, thus becoming healthier physically and mentally. Join our workshops to learn strategies of time management and how to overcome procrastination, which is very common amongst university students.

Visit cedars.hku.hk/cope/workshops for more workshops and fun activities!


E
nquiries: Counselling and Person Enrichment (CoPE)
cedars-cope@hku.hk


Intern with Founder *
Intern with Founder (cedars.hku.hk/internwfounder) is an entrepreneurship internship programme under CEDARS HOUSE (Hub of University Student Entrepreneurs) that helps develop students' entrepreneurial capacities and mindset through hands-on intern opportunities with founders. The programme also builds bridges for entrepreneurial ventures to tap into the HKU talent pool.
Students will be working closely with the founders of start‐up companies, innovation‐oriented companies, and entrepreneurial social ventures. The internship duration may range from eight weeks to one year, and can be either paid or non-paid in part‐time or full‐time mode.
We also organise HKU Startup Job Fairs (Autumn 2018 and Spring 2019) to let students network with a variety of prospective startups and make an impression before applying for internship and full time jobs.

Enquiries: Careers and Placement CEDARS-HOUSE@cedars.hku.hk


* These learning activities are pre-approved programmes under Credit Award Scheme for Out-of-classroom Learning Experiences. Students who successfully completed the Programme will be eligible to earn 1 credit of the Credit Award Scheme by submitting an application to the Horizon Office for formal approval.

Pursuit of academic/professional excellence, critical intellectual enquiry and life-long learning