Leadership and advocacy for the improvement of the human condition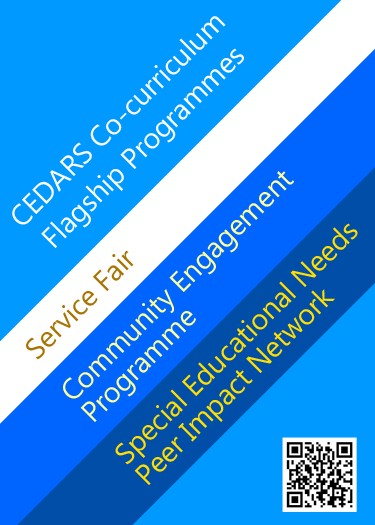 Community Engagement Programme *
Community Engagement Programme aims to equip students with a comprehensive understanding about the challenges faced by underprivileged population in Hong Kong and provide them with an opportunity to serve and promote the development of a caring and sustainable society. After undergoing training, participants can contribute their talents, knowledge and skills in designing and implementing their own service projects. 
Service Fair 
Service Fair will bring together different student-initiated project teams and HKU community partners to showcase their service projects and opportunities in Hong Kong, Mainland China, Asia and Beyond. The Fair will connect and motivate HKU students to different community engagement initiatives. It is also a gateway for HKU students to develop into socially responsible leaders and active shapers in both local and global communities. 
Special Educational Needs (SEN) Peer Impact Network (PIN) 
HKU students are recruited as members of SEN PIN to support people with disabilities or SEN both inside and outside campus to participate fully in life. Students will form a network in which they are exposed to various service and training opportunities. Being members of SEN PIN, students will have the chance to make use of their knowledge and experience to go beyond service provision, and help to promote value of inclusion, diversity and acceptance on campus.
Leadership and advocacy for the improvement of the human condition