Intercultural understanding and global citizenship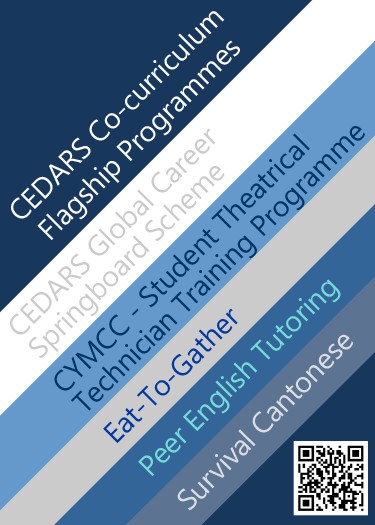 Survival Cantonese
Non-local students who do not know Cantonese are encouraged to register and learn some essential day-to-day "Survival Cantonese" phrases from students who are native speakers. Group chats are also available for students to practice daily Cantonese conversations.

Enquiries: Counselling and Person Enrichment (CoPE) cedars-cope@hku.hk



Peer English Tutoring
One-to-one and small group English conversational practice sessions are offered to HKU students who want to brush up their oral English. All English peer tutors are native or near native English speakers.

Enquiries: Counselling and Person Enrichment (CoPE) cedars-cope@hku.hk

CEDARS Global Career Springboard Scheme (CGCSS) 
*
CGCSS offers unique career learning opportunities outside Hong Kong. The Scheme will help students develop their work skills as well as global perspectives and enhance their mobility through building an international network.  
CGCSS offers two types of programmes: (1) paid/non-paid workplace internships; and (2) career exploration programmes. A wide variety of internships are offered in over 50 locations, including Mainland China, Japan, South Korea, Singapore, Malaysia, Thailand, Indonesia, Australia, New Zealand, US, UK, Ireland, France, Germany, Belgium, Spain, etc. Career exploration programmes are 1- to 3-week overseas learning tours, comprising corporate and manufacturing visits, career training, personal sharing by professionals, group research projects and cultural exchange activities with mentors or local university students. Ten programmes in Asia and US have been organised this year. New programmes of different themes and elements are to be introduced in the coming year.

Enquiries: Careers and Placement careerspringboard@cedars.hku.hk 

 

Chong Yuet Ming Cultural Centre (CYMCC) – Student Theatrical  Technician Training Programme
*
The programme provides opportunities for students to learn the essential stage lighting principles and the use of audio-visual equipment in theatrical production.  Students are required to complete a 20-hour induction course plus practical training in order to earn 1 credit unit. They also have to pass the safety examination organized by the Construction Industry Council to qualify for part-time technicians of CYMCC.

Enquiries: Chong Yuet Ming Cultural Centre cymcc@hku.hk

Chong Yuet Ming Cultural Centre (CYMCC)  Cultural Management Trainee Programme
Fresh graduates who are interested in working in the arts and cultural industry may apply for the trainee programme. The appointee will liaise with users on production details, and assist in running the two venues, Yuet Ming Auditorium and Studio 303, under the management of CYMCC. Upon completion of the programme, the intern should have acquired the necessary skills to take up other job opportunities in the creative industry.

Enquiries: Chong Yuet Ming Cultural Centre cymcc@hku.hk

Eat To-Gather
In this programme, non-local students will enjoy a homey meal with a local host family to have an authentic taste of the family life in Hong Kong. Beyond the dining table, non-local students will also have the chance to engage in deeper cultural exchange with the host family through different gatherings and outings. Local students are invited to join as "foodmates" of the non-locals in these family meals and gatherings to help promote their integration into the local culture and adaptation to life in Hong Kong.

Programme details: cedars.hku.hk/eat-to-gather

Enquiries: eat-to-gather@cedars.hku.hk

* 
These learning activities are pre-approved programmes under 
Credit Award Scheme for Out-of-classroom Learning Experiences
. Students who successfully completed the Programme will be eligible to earn 1 credit of the Credit Award Scheme by submitting an application to the Horizon Office for 
formal approval
.
Intercultural understanding and global citizenship