Make Counselling Appointments
Make Counselling Appointments
Make Your First Appointment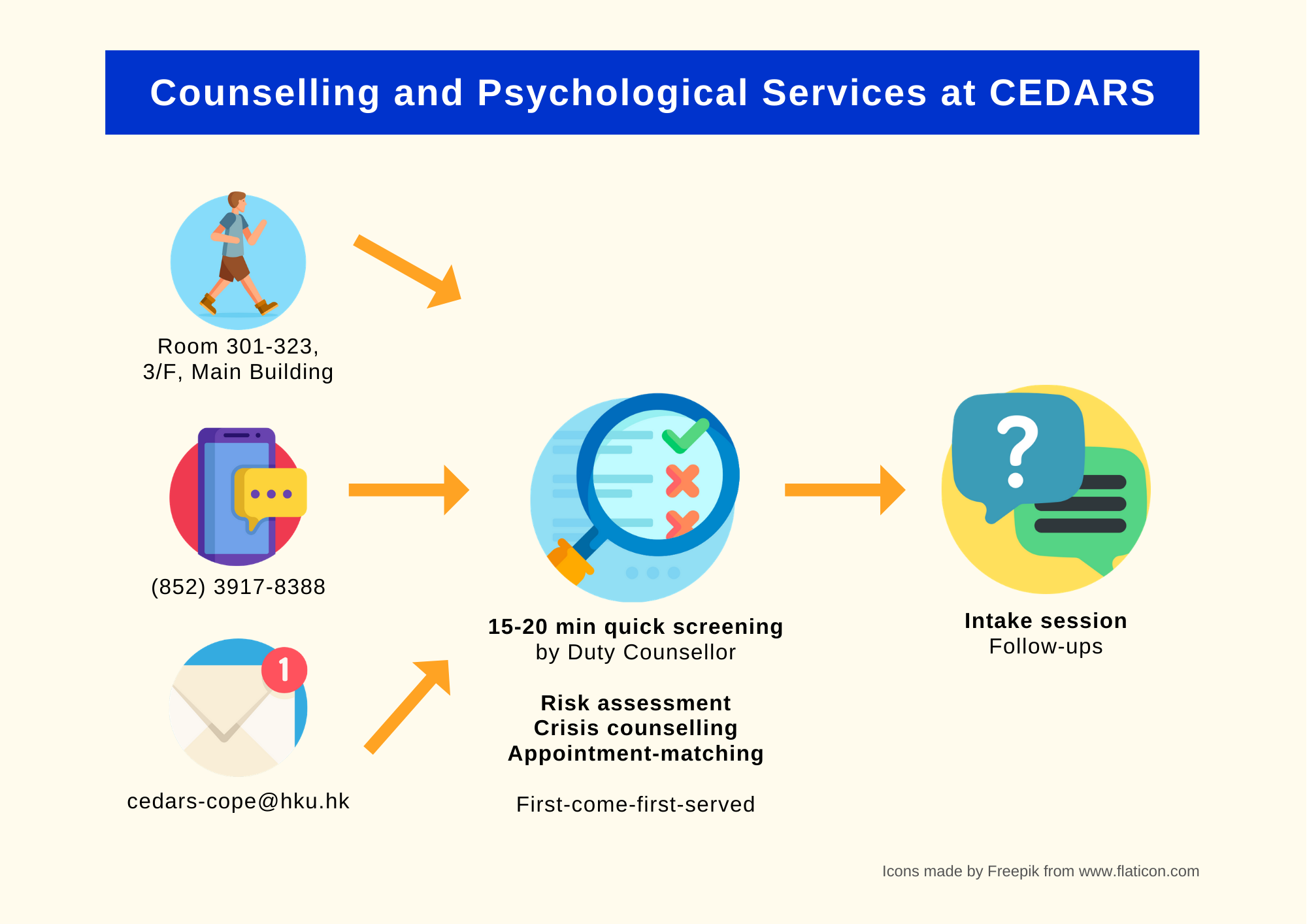 You can call (852) 3917 8388, email or come to our office during opening hours.
You will be invited to talk to our Duty Counsellor for about 15-20 minutes for Screening and Triage, in which your needs and urgency will be assessed.
Screening hours (first-come, first-served)
Mondays – Fridays 10am-1pm & 2pm- 5pm
(Except public and university holidays)
There, you will be matched and scheduled to meet with your Case Counsellor for a full Intake Session, which usually lasts for 50 minutes.
If you are currently residing in a place outside Hong Kong, please seek professional counselling or mental health services from where you are currently located. Given regulatory laws in most countries, our counsellors are not allowed to provide counselling and psychological services to students located outside Hong Kong.
If you are looking for Clinical Psychological Services within HKU during non-office hours (evenings and weekends), or for any reason you are interested in other service providers aside CEDARS-CoPE, you may wish to explore the Psychological Service Unit (PSU) under Department of Psychology at HKU to see if it fits your needs. Current HKU students who are attending clinical treatment at PSU during the period of 17 April - 30 June, 2023 may seek for a subsidy to cover part of the service charge from CEDRAS under a pilot subsidy scheme. For further details, please contact Ms. Samantha Lam at (Tel) 3917 8389.
Follow-up appointment
You will arrange follow-up sessions with your Case Counsellor in the intake session.
Urgent appointment (Drop-in Services)
If you are in a crisis situation or need to see a counsellor immediately, you can come to our office during our opening hours. The Duty Counsellor will assess your needs and make the appropriate arrangement with you.
If you have an emergency after our office is closed, you can refer to After-hour Emergencies & Support to seek assistance from support services in the community.
Change appointment
If you need to change the time of a scheduled appointment, please contact our counter staff at (Tel) 3917 8388, preferably 24 hours in advance so that another student in need may take your timeslot. After office hours, an answering machine will take your message.
Make Counselling Appointments